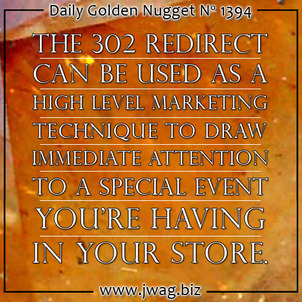 Today is Thanksgiving Day in the U.S., the only national holiday that transcends all races and religions. The holiday is typically celebrated by gathering together with friends and family and enjoying an elaborate meal. The next few weeks will see huge spikes in retail store sales, and today is probably the last day off most retail store owners in the U.S. will have until Christmas Day.
I'm mentioning this because a recent review of my own Google Analytics revealed that 47% of my readers are located within the U.S., and 53% come from other English speaking countries that don't understand the holiday gift buying and gift giving frenzy that has evolved in the States.
In addition to being Thanksgiving, it's also #ThrowbackThursday. I found a special throwback Nugget from November 2011 that was written specifically for the holiday season...
How to use 302 redirects for holiday marketing
.
Holiday Website Marketing
It takes a lot of time to plan your holiday season marketing. Specific ads will attract the attention of your targeted audience, and hopefully that targeted marketing will lead people to appropriately detailed landing pages. However, according to my own research data, a website home page will attract 58.8% of all inbound traffic to a retail jewelry website.
During the holiday season, it makes a lot of sense to update your website home page every time you launch a new ad. This updating can get a little tedious, especially if you are publicizing several new promotions over a series of days.
Thankfully there's a different option available called the 302 redirect. Using a 302 redirect feature on your website you can seamlessly send people to your special marketing landing pages for a few hours, a single day, or a few days, without harming your website ranking.
The underlying technology of a 302 redirect tells the search engines that you are only temporarily changing your home page to some other page, and, in theory, that the search engine should not take any action to adversely affect the home page ranking of the website.
Using 302 Redirects for Holiday Marketing
Let's assume you have a big sale even happening each of the 4 Saturdays leading up to Christmas. To promote each week, you are planning a combination of marketing using emails, post cards, and paying for social media ads that lead people to a special landing page on your website.
While you should announce these special events on your home page every week, you probably don't want to repeat all the information. Using the 302 redirect technique, you could bump all your home page traffic to a special landing page for the few days preceding the event. Specifically, you could activate the redirect on Wednesday and deactivate it on Saturday after the event.
Search engines are supposed to maintain the ranking of your website home page during this temporary redirect period. The trick is to use the 302 redirect for only as long as necessary, otherwise the search engines might think you've confused 302 functionality for the
301 functionality that you use when rebuilding your website
.
302 Is a Timesaver
Using the 302 redirect technique will also allow you to save time during a busy holiday season. Retail store owners would rather spend more time working directly with customers than managing their website. You can set up the landing pages at your leisure and then activate the 302 redirects when appropriate during a busy work week.
The Nugget for Today
Create a landing page to match a specific ad or marketing campaign to explain the full details of your offer. Then consider using a 302 redirect feature to lead website visitors from your home page to that landing page during the few days that offer is taking place.