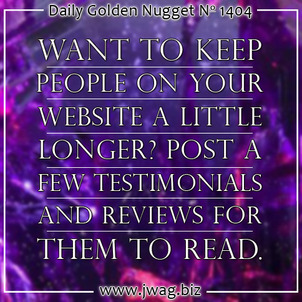 This is a pretty sad edition of #ThrowbackThursday. In fact, it's not even much of a throwback since I'm only jumping back 3 months to September 2015 to my explanation of
how to share Google reviews to your website
.
Testimonials and online business reviews are an important part of a customer's pre-screening process of you. While every online directory has a review system, arguably Yelp and Google have been leading the leaders for capturing those customer opinions. Google once aggregated reviews from other directories but discontinued that practice once marketing companies started spamming and abusing them.
Yelp's process of capturing and handling reviews has come under some scrutiny recently, with a few clients of mine even accusing Yelp of writing bogus reviews after they canceled their paid Yelp subscription. Yelp also hides many good reviews which, they claim, were suspiciously written.
There are a few companies which provide reputation management services and the ability to post reviews directly on your website. My own company provides such a service, and I found one good example
shown here
.
The previous marriage of Google+ with Google business pages created a really convenient way to grab your reviews from Google's system, share them to Google+, and then embed those shared posts to your website. You could do this in just a few minutes if you followed the directions in the #TBT link above.
Sadly, the
new Google+ system launched November 17, 2015
has removed almost all ties to the information found on Google Maps. Your business description, store hours, and yes, the reviews have been removed. Within the new Google+ there's no way to share reviews, and therefore the entire feature I previously wrote about is on the verge of being disabled.
Posting testimonials and reviews on your website should help with your marketing and gaining of new customers, just as long as the reviews are not all perfect. Google has created some opportunity for 3rd party review companies who specialize in collecting reviews and making them appear on your website.
I expect that we'll see several new reputation management companies taking advantage of this situation, and it might be a good idea to sign up with one. Just be sure to do your due diligence before hiring them.