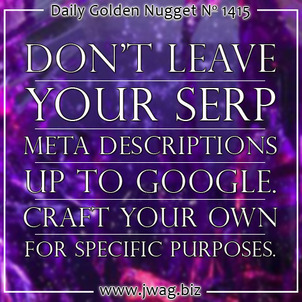 This is a special Christmas edition of the Daily Golden Nugget. Each and every Friday, I write some type of website critique or review as an educational case study. For Christmas today, I'm changing it up and reviewing a Christmas-related search engine results page.
As I started my search today by typing out "christmas jewelry ideas," Google offered me the suggestions you see here:

I skipped the other suggestions and just continued with my own search. This is what Google gave me: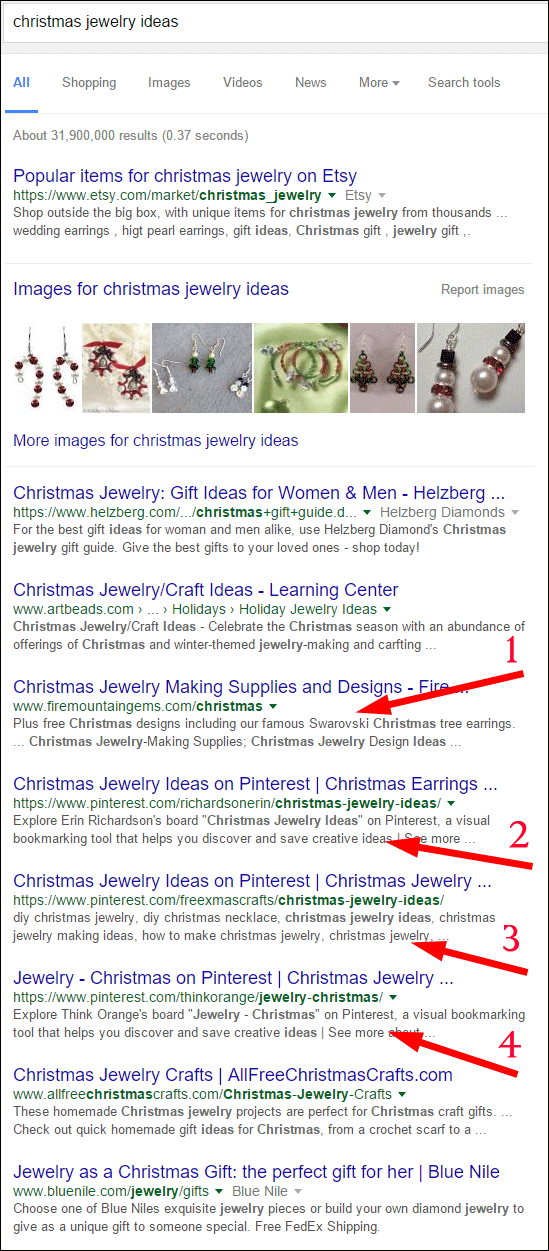 Some of these SERP listings have finely crafted descriptions, some are auto generated, and some are just "frankensnippets" that Google created.
Item 1 in the above screen shot is from firemountaingems.com. That description was pieced together through Google auto-generated methods. Whenever you see the ellipsis (...) in a description it's a sure sign that the web page didn't have a meta description, or that Google deemed the description to be poor quality, so they created a new one.
Item 2 and item 4 in the above screen shot are both from Pinterest. The descriptions you see there are created by Pinterest's auto generated process when you create a new pinboard and you skip the step of adding a description.
On the other hand, if you do add a description to your Pinterest pinboard, it will appear in the SERP like what you see as the description for item 3.
Etsy SERP
The description for the Etsy listing is a partial frankensnippet. The first sentence you see here was taken from the meta description, but the comma separated list of products was created by Google.

Suggested images
It always difficult to pinpoint exactly why Google shows images in the SERPs, however it seems these 6 images were specifically chosen because the URL and page titles closely matched my search query.

Here are the URLs for each image:
1. https://www.pinterest.com/freexmascrafts/christmas-jewelry-ideas/
2. https://www.pinterest.com/freexmascrafts/christmas-jewelry-ideas/
3. http://simplejoys.typepad.com/my_weblog/2005/12/christmas_jewel.html
4. http://lifestyle.howstuffworks.com/crafts/holiday-crafts/how-to-make-christmas-jewelry.htm
5. http://pelfind.net/photo/56232p1295608/christmas-jewelry-gift-ideas
6. https://www.etsy.com/listing/85957993/quirky-christmas-lights-earrings-weirdly
Marketing and Sales Messages
The remaining 4 search results shown here have the best sales and marketing messages: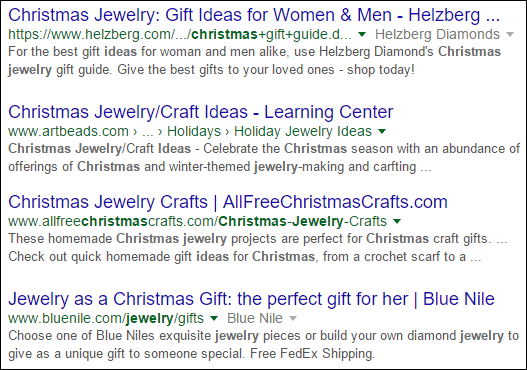 All 4 of them are written specifically to help attract your attention as the best place to find that Christmas jewelry gift. All of the page titles include the words Christmas and jewelry, which matches my original query.
Each of the descriptions took a different approach when crafting a specific message to catch attention. Here's the first few words of each one:
"For the best gift ideas for woman and men alike..."
"Christmas Jewelry/Craft Ideas - Celebrate the Christmas season..."
"These homemade Christmas jewelry projects..."
"Choose one of Blue Niles exquisite jewelry pieces..."
Writing these special descriptions isn't easy. You have to put yourself in the mindset of the person shopping and write a description that will make sense for them. If I really was searching for Christmas jewelry ideas, I certainly would click through all 4 of these options because they do resonate more than all the others on the page.
Christmas Conclusions
You should always write a meta description that correctly explains what someone will find on your page, and the reason why your page is better than all the other options found in the SERP. Meta descriptions are not used as a ranking factor, but when written well, they will increase the number of clicks you get to your pages.
Special landing pages for events or the holiday season should always have appropriately specific meta descriptions to capture attention rather than a generic description of what type of store you are or what service you provide.