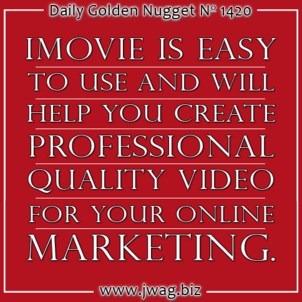 Happy New Years and welcome to #FridayFlopFix! FridayFlopFix is what I call my weekly website reviews. The goal of these Friday the Daily Golden Nugget editions is to find a website that is behind on expected website standards, i.e. flops, and provide suggestions for fixing it.
Last night, on New Year's Eve, millions of people watched the ball drop in Time Square, New York City. In honor of this, I've also decided to focus my attention on NYC to locate a retail jeweler. Considering the NYC Diamond District and so many retail jeweler so close to one another, I expect to find a wide range of good and bad websites.
I began my search with the query "jewelry stores in new york city" for which Google returned these results:

Although I didn't indicate Time Square in my query, Google returned a map showing a few jewelry stores near that iconic area. Of the three stores shown in the local pack, the Lauren B Fine Jewelry website is well designed and I won't review big brand websites like Tiffany & Co. The R&R Jewelers website is a good review candidate for today, but before I dive into that, let's look at the other search results Google returned.
The SERP shows 10 results, only 4 of which are jewelry stores. In addition to the three seen in the local pack, the results also include Greenwich Jewelers. The other 6 results are different types of business directories. Google had plenty of options for returning 10 jewelry stores, but these results are provide a more diversified set of options for users. The point is that sometimes your website ranking is competing with local directories in addition to your competitors.
First Impressions
I'm reviewing the R&R Jewelers website here:
http://www.randrjewelers.com/
This is what the home page looked like when I first visited:

(click to enlarge)
They have a YouTube video in the top prominent spot on their home page that plays automatically, and is on repeat. I'm not a fan of auto-play video or music on a home page. That sudden burst of unexpected sound is jarring for visitors, and it's often trouble for people surfing your website while at work. I consider this to be a flop.
Instead of having auto-play, they could have set the video up with a special cover slide which invites people to click the video. Normally YouTube will randomly select the cover slide that appears when the video is not playing, but you also have the option to upload a static slide of your own. In this case, a static slide could include a season's greetings message along with the invitation to press play.
Although I don't like their specific execution, I really love that they took this effort to create a video, you can watch it
here
. The video was made with the easy to use Apple iMovie app that's available on iPads, iPhones, and MacBooks. In fact, they used one of the built-in iMovie templates that walks you through the process of making a 1 minute video. Anyone with an iPhone can create professional quality videos like this one.
#!
This website uses the hash/bang (#!) character combination of delivering pages. They are using the Wix CMS to easily build their site, but instead of using individual pages, their setup uses #!.
The hash/bang character combination was created a few years ago as a way to load new content into a web page without fully refreshing the web page. This allowed a website to operate faster since it didn't have to reload the header or footer information with every page refresh. This method uses AJAX scripts to load content, a method that wasn't understood by Google until 2015.
Google is now able to read these pages. A search for "site:www.randrjewelers.com" shows these results now: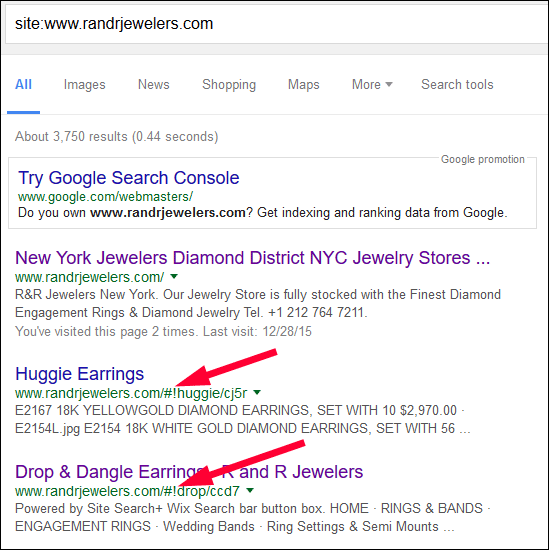 In years past, Google would not have been able to see any of the pages with the #! As part of the URL string, but this is not a problem anymore.
However, the R&R implementation of their hash/bank setup has several technical issues that I noticed.
The first major technical issue is that every #! page has a canonical link back to the home page. Canonical links are hidden links on pages that you are only supposed to use to prevent duplicate content. If the potential for duplicate content exists, then you add a canonical link back to the master page. Whenever Google finds the canonical link they will assume the page is duplicate content and only index the master page.
In R&R's case, they have a canonical link on every page of their website which points back to the home page. In other words, they are telling Google that their entire website is a bunch of duplicate pages that should not be indexed, and that the home page is the only page that should be indexed.
Whew! Quite a flop to fix! I'm not sure if this is a built-in feature within Wix, but they should disable it.
The hash/bang frequently yields unexpected results, like what happens when you visit on this product page:
http://www.randrjewelers.com/#!product/prd1/4441726191/r6260-18k-white-gold-diamond-ring-set-with
This is what I saw during the review: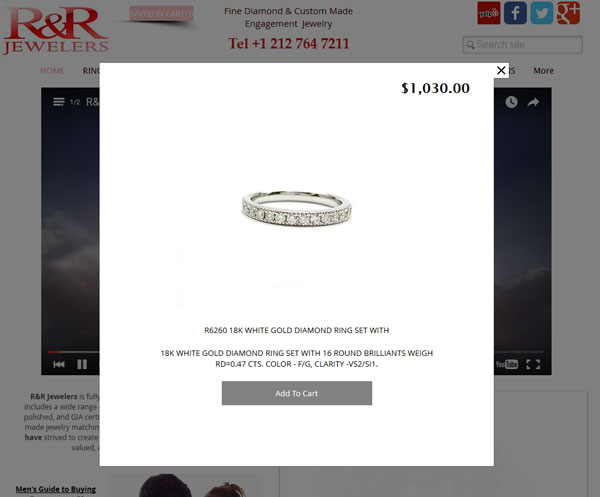 Looking closely, you'll notice that the #! AJAX loading routine incorrectly shows a popup for the product in the foreground and the home page of the website in the background. Remember that the home page is auto playing the video, so there's no way to disable the sound while you are viewing this product.
This situation is a little more difficult to fix than the canonical problem. They'd have to remove the popup functionality from their site and replace it with regular pages.
Meta Descriptions
The last flop I'll point out for today is their meta descriptions. By the look of it, they haven't bothered to tweak any of them, instead, they've allowed Wix to auto generate the descriptions for every page.
Here are two examples:

The meta description should be used as a sales message to convince people to click on your website. The descriptions "Powered by Site Search+ Wix" and "E2196 18K WHITE GOLD DIAMOND" are certainly not enticing. The only way to fix this is to work through every page and product in the Wix CMS and manually add interesting descriptions.
That's it for this week's review; I'll see you next time...
FTC Notice: I randomly choose this website and won't be telling the retailer jeweler that I'm giving them these flop fix ideas. Unless someone else tells them, they will only find out about this Nugget if they use Google Alerts or examine their Google Analytics and Google Search Console. I'm not doing this to solicit business from them, but rather as an educational exercise for everyone. This #FridayFlopFix is completely impartial and all my comments are based on previous experience in my website design and marketing agency, and from my personal research data.