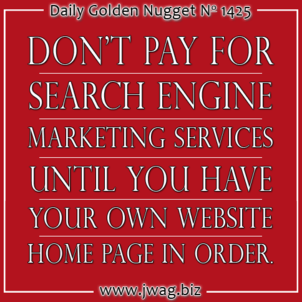 This is the #FridayFlopFix edition of the Daily Golden Nugget. Each week, I look for a random retail jewelry store website that is using the wrong approach on their website, and I make suggestions for improvements. This week when I searched Google for "jewelers st. petersburg fl," I was given these results: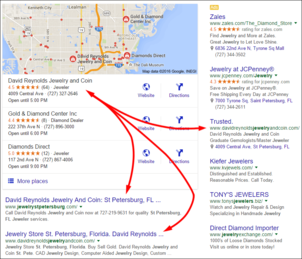 (click to enlarge)
David Reynolds Jewelry and Coin captured my attention right away because of their dominance in the search results. They are listed first in the local pack, first and second in organic results, and they even have an AdWords ad in the right margin.
The local pack listing shows a fantastic 4.5 star rating from 64 reviews. The David Reynolds primary website is
http://www.davidreynoldsjewelryandcoin.com/
and they've used their Google My Business account to link it to their local listing and their Google AdWords ad. That domain name is listed second in the organic results. This is what the home page looked like when I wrote this: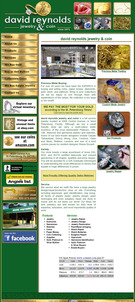 (click to enlarge)
According to the Internet Archive Wayback Machine,
this website was first launched on September 8, 2009
and hasn't changed much since.
The other website that appears in the SERP is http://www.jewelrystpetersburg.com/. This is what it looked like at the time of this writing:

(click to enlarge)
There are several flops on this website that need to be fixed. Let's dive in...
Old Website
Their main website, davidreynoldsjewelryandcoin.com, has an old design and needs to be refreshed badly. Not only that, but the site was built in 2009 during the Great Recession and it uses SEO techniques that are considered black hat by today's standards, specifically the keyword stuffing found in the footer of every page. Take a look:

The fix here is to create a new website and transfer all the content without using this keyword stuffing technique in the footer.
Overlooked AdWords Opportunity
Not many jewelers are willing to dabble with the cost of Google AdWords. Perhaps they are keeping their cost down by using
AdWords Express
. Their ad caught my attention because of the simple title "Trusted."
As I look over the David Reynolds online identity, I see that they have many reviews on Google, Yelp, and Angie's List. Indeed, they are trusted. However, it took me more than a few seconds to confirm their "trusted" claim with their reviews.
On the other hand, the ad for JCPenney appeared right above the David Reynolds ad, but their ad included the review rating feature and the telephone feature available to AdWords users. Compare them more closely here: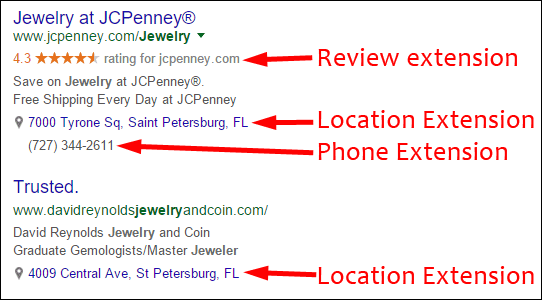 Google AdWords has a few features that allow you to pull in information from other Google databases. The review rating and the address are both part of Google Maps and the telephone number is entered into the Google My Business account. Using extensions, you can pull that information into an ad to give it more screen real estate and, in this case, correctly associate the headline "trusted" with their 4.5 star rating.
The fix here is to have someone go into their AdWords account and apply the correct settings to activate this. If it turns out that they are using AdWords Express, then they will have to deactivate that ad before setting it up again in Google AdWords.
Yodle Website
The jewelrystpetersburg.com website is powered by Yodle. I've come across these websites several times in my reviews. If you jump back to
this review
you'll see that all these Yodle sites look alike.
I researched Yodle about in mid 2015 and found their pricing to be between $1,350 and $2,500 per month. Most of that money was used for Google AdWords.
What's interesting about Yodle is that they do guarantee first page Google ranking for keywords. This completely contradicts Google's recommendation that you should never pay for someone who will guarantee first page ranking, yet Yodle pulls it off with their, well, sleazy method.
They accomplish first page ranking by setting up a brand new website, transferring content, and targeting your business name or other random non competitive keyword phrases. Ranking for your own business name is very easy. Their tactics allow them to claim they have fulfilled their guarantee to you, yet you'll struggle to see a return on investment from their spending.
It's quite possible that Yodle is managing the AdWords campaign for David Reynolds, in which case they are doing a moderately adequate job. As professionals, they should already be aware of the star rating extension and telephone extensions I mentioned above.
From what I can tell, David Reynolds signed up with Yodle in March 2015 and launched this secondary website in September 2015. The disappointing fact is that they have achieved first place ranking for a phrase like "jewelers in St. Petersburg FL" but that ranking will disappear as soon as they stop paying Yodle.
David Reynolds should not have entered into a contract with Yodle. That's a financial business flop. The better fix would have been to invest that money into improving their own website that they maintain control over.
That's it for this week's Flop Fix; I'll see you next time...
FTC Notice: I randomly choose this website and won't be telling the retailer jeweler that I'm giving them these flop fix ideas. Unless someone else tells them, they will only find out about this Nugget if they use Google Alerts or examine their Google Analytics and Google Search Console. I'm not doing this to solicit business from them, but rather as an educational exercise for everyone. This #FridayFlopFix is completely impartial and all my comments are based on previous experience in my website design and marketing agency, and from my personal research data.