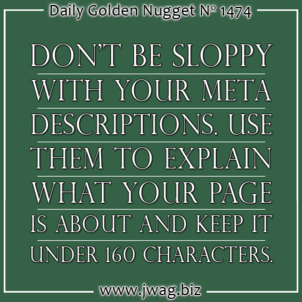 In today's #ThrowbackThursday, I'm jumping back to January 2012 to my topic of
avoiding keyword stuffing in meta descriptions
.
What Are They?
The meta descriptions are the approximately 150 character descriptions you see in the search engine results pages. What you put in the meta descriptions does not count towards your search engine optimization; rather, it's there simply to explain what customers will find on that individual page. Some people are misled to believe that the description will help their search ranking so they include several keywords in there to gain a boost to the top of results.
The Bad and The Good
When I wrote the original Nugget on this topic 4 years ago, Google wasn't as smart as they are now. Most of the time, if Google finds keywords stuffed in your meta description they will simply rewrite it for you using a sophisticated script that pulls random sentences from your page. Back then, you could find those keyword stuffed descriptions on almost every page of Google's results; today, I had to dig deep to page 10 of the results to find this one:

According to that SERP entry
"Bentleys Fine Jewelers sells Diamond Jewelry, Designer Rings, Diamond Earrings, Pendants, Bracelets, Necklaces, Wedding Jewelry, Bands, Engagement,"
which is exactly what you'd expect a jewelry store to sell. I'd rather they tell me what makes them special and why I should click on them.
Keyword stuffed meta descriptions are usually a hint that there are other, more serious SEO problems with a website, which is probably why they are on page 10 of the search results.
Here's an example of a better meta description:

That example quickly explains how long they've been in business, their expertise, and a few specific services. It also has a phone number that invites customers to call without visiting their website.
Google Knows Best
Even though your meta descriptions don't directly affect your search engine ranking, they do help with convincing people to click on your site. Within the jewelry industry, I've noticed that a lot of jewelers that have not even tried to improve the SEO on their site, and many sites have blank meta descriptions.
When you leave your meta descriptions blank Google will fill them in with random information from your web page. Google also rewrites your descriptions when they feel they do not match the contact that's on the page. In other cases, if you've included too many topics on a single page, Google will create a meta description specifically to match the keywords someone is looking for.
What To Know
You should limit your meta description length to 160 characters or less. Google changes how they display meta descriptions depending on how the search results page is formatted. I've seen descriptions abbreviated down to 60 characters while others are expanded out to 300+ characters. Google's goal is to make the user happy, and sometimes that means they need to include a larger description or truncate it a lot.
For your own purposes, you should write your introduction and call to action within a limitation of 150 characters.