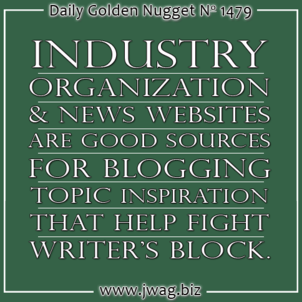 For this week's #ThrowbackThursday, I'm jumping back to a Daily Golden Nugget that's in desperate need of updating, specifically what I wrote about the
Jewelry Information Center
, otherwise known as the JIC. JIC was created by Jewelers of America as a consumer education service. The jic.org website commonly posted current jewelry trends and was a great inspiration resource for your own jewelry blog.
In 2015, the jic.org website was shut down and merged into the jewelers.org website when it was redesigned. This new jewelers.org website was converted to show all consumer education information on the home page and then moved jewelry industry information into the jewelers.org/ja subdirectory.
Jewelers should now be looking to the jewelers.org website as a source of blogging inspirations.
Be Inspired
Jewelers often tell me they can't think of topics to blog about. There is so much of the same jewelry information is found online that it seems unnecessary to rehash or repeat the 4C's of Diamonds over and over again. If you find new blogging topics a challenge, then take a look at the home page of jewelers.org for ideas.
As of this writing I see links for these frequently asked questions:
How are gemstones graded?

What necklace length is right for me?

When should I get my jewelry repaired?
Although each of those questions could be answered in a single blog post, those links lead to landing page subsections of the site with a lot of information about those topics.
You could dig into those topics, read them, and rewrite them, but I suggest a different approach. Just read the headlines and figure out what you would write for that headline. For example, what is your own advice for when to get jewelry repaired? Can you explain what to look for on jewelry, like loose gemstones, cracks, or how to recognize the changes to the patina of your jewelry?
Follow Gifts & Trends
I really like the gifts and trends section of the JA website (
http://www.jewelers.org/gift-guides/
) because it helps retail jewelers stay on top of trends and provides even more inspiration for writing birthstone blogs, current trend blogs, and gift blogs.
Make Them Your Own
Don't copy what you find on the JA website; you have to make it your own. Don't simply rewrite the information either; you have to put your own spin on it. That spin should include a description of how you provide your service along with the specific items or designers you carry in your store that relate to the topic.
Remember, blogging is part of your continued content building process that yields greater results over time. Avoid writer's block by using the JA website for your blogging inspiration.