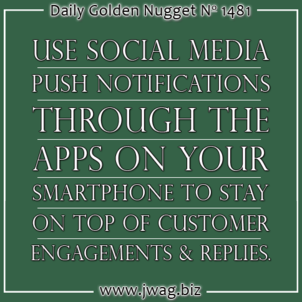 Your success on social media is related to the amount of time you spend engaging with your customers. I like to think of social media as the online version of a business networking event. Plenty of people attend business networking events with grand notions of meeting new business partners only to get there and stand on the sidelines, or quietly sit at a table without working the room.
At some local networking events, you might have the opportunity to hand out fliers or put up a sign to advertise your product or service, but there's still no guarantee that your sign will generate business unless you first have a conversation with each person that comes to talk to you. You'll gain more business leads by standing next to your sign and talking to people who walk up to you, than if you were to leave the sign alone.
Social media works the same way a local networking event does. Whenever you post something online, you have to pay attention to the post and respond to the people who engage with it. However, many companies will treat their social accounts as if they are standing on the sidelines, sitting quietly at a table, and completely walking away from the sign they just put up. This is the wrong strategy.
Finding The Time
No one has the time to aggressively monitor their social media accounts to respond to all the possible engagements. You have to come up with a system and a personal process for monitoring and responding. For me, I use my smartphones for that purpose.
On each of my smartphones, I've allowed the social media apps to beep and display a push notification whenever someone engages with one of the accounts I monitor. Because I monitor many social network accounts, I find it easier to use multiple smartphones while at my work desk; each one is logged into a different set of social accounts. Those older smartphones might not be usable for much, but they are still good for social network notifications.
As I write this I have 2 iPhones and 1 Nexus Android at my desk. I find it much faster to glance at their screens as they beep throughout the day than have multiple desktop apps and web browsers logged into all of my accounts. Using the smartphones this way also allows me to walk away from my computer without worry that I might miss an important customer social engagement.
For your own purposes, I suggest that you implement your social media monitoring in the same way. Activate push notifications on your phone and reply to customers as soon as they engage your post. With this method, you'll be able to save time because you'll only revisit your business social accounts when needed, rather than spending a few minutes throughout the day to check in manually.
Setting Your Own Time
Another way to maximize your social media engagement is to schedule your posts to appear during times of the day when you know you will be available. What are the busy times of the day for your business, and when do you typically get a break, or slow down? To maximize your engagement efforts, you should schedule your social posts to appear during those slower times of the day.
With scheduled posts during slower times of the work day, you're more likely to pay attention to the push notification on your smartphone and react with an immediate reply. Your quick reply back will make it seem like you are always monitoring your social accounts, when in reality you set your posting schedule to mesh with the best times of your work day.
Today's Golden Nugget
Never let your social media post become an orphan by posting it and walking away. You should schedule your social media posts to appear during slower times of your work day when you know you'll be able to reply to customers who engage with the post quickly. You should also set your smartphone up to show push notifications so you can monitor your social activity without having to manually check it.