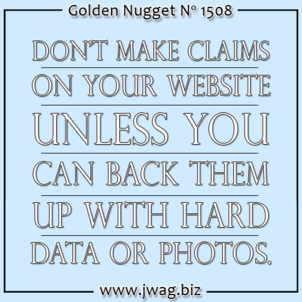 In this week's website review, I'm heading over to Laramie, WY in search of a good jewelry store. My hope, like most savvy internet users today, is that I'll find a good jeweler based on the information they have on their website. If the website I find happens to be a total flop, well, then I'll give some suggestions to fix it.
I write these website reviews every Friday to demonstrate how to apply new SEO techniques, online usability, and content building to pre-existing websites that need help. I use Google Chrome in incognito mode to search for my review candidates and I try to document my first impressions as I browse through every page.
Here's a screen shot of the results for my search phrase "jewelers in laramie wy":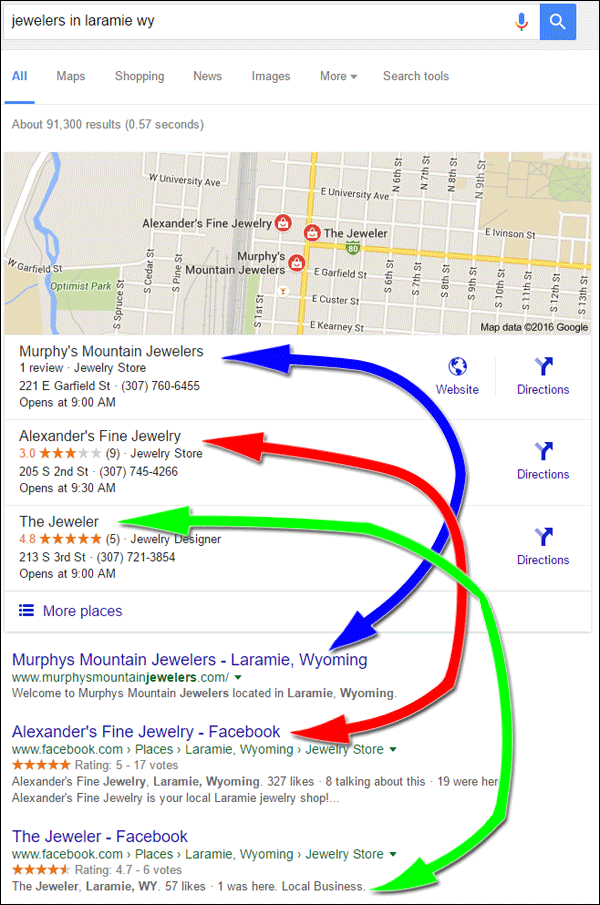 Even though only one of the three jewelers in the local list has a website associated with their Google account, the search results conveniently surfaced the Facebook business pages for the other two jewelers without websites.
I'm choosing Murphy's Mountain Jewelers as my review candidate for this week. Their website is
http://www.murphysmountainjewelers.com/
.
First Impressions
This is what the website looked like when I visited: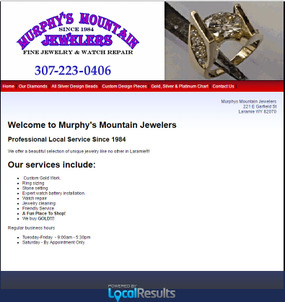 (click to enlarge)
It's a very simple website with only 6 pages, including the home page. At first glance, I thought this was an old style YellowPages template website, but it was made my another company called LocalResults.
I'm disappointed by the look of this home page. The photo in the header is blurry and it simply lists their services. They claim to provide professional service since 1984 and have a beautiful selection of unique jewelry, but I don't believe that unless I see some photos to prove it.
Whenever possible, include a photo next to any claim you make on your website.
I quickly looked at every page and confirmed my initial reaction... They should start over. According to web.archive.org, Murphy's Mountain launched their first website in December 2008 and then launched this version of the website in February 2011. The pages for Silver Designs and Silver Design Beads were added in January 2012. The only changes to the site since then have been the occasional change of their store hours and the photo in the header of their website.
I really hope they will consider building a new, stronger, faster website in the near future. Here are my thoughts just in case they want some unsolicited advice...
Before You Hire Someone For Local SEO
Before hiring someone to optimize your website for local search engine traffic, you should consider how big your geographic area is, how much competition you have in that area, and how much time you're willing to spend to do it yourself. It's much easier to optimize your online identity for local results in smaller communities than it is in major metropolitan locations.
The population of
Laramie, WY
is estimated to be about 32,000. According to Google Maps, there are only 4 jewelers in the city with the next closest jeweler about 40 miles east in Cheyenne, WY.
I'd consider that small enough to manage local search optimization without hiring someone. Right now, they are the only local jeweler with a website, which is why they appear in first place on Google. However, anyone could build a better website and knock them right out of the way.
There are very few jewelry options in the middle of Wyoming, and any jeweler willing to build a better website will attract attention from those willing to drive a little while. The Murphy's Mountain home page says they have unique jewelry in their store, which I don't doubt, but I'd want to see it before potentially wasting my time driving for an hour to get to their store.
Other than hosting, I hope that Murphy's Mountain isn't still paying Local Results for service. As of this writing in June 2016 the http://www.localresults.com/ and their Facebook, Twitter, and Google+ social accounts had not been updated in 3 years. The last post to Facebook was July 29, 2013.
Now I'll explore some of the ways that Murphy's Mountain could manage their website and SEO on their own...
Diamonds Page
They installed a diamond search widget on their website, but it's very hard to use. Take a look at this screen shot: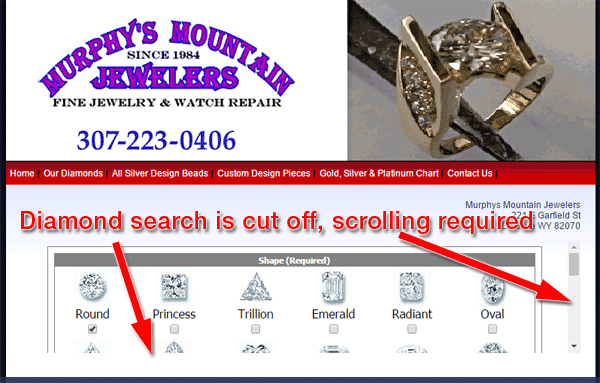 The page is incorrectly formatted to only show the top part of the search feature. You have to use the small scrollbar on the right to navigate down the form. This issue is easy to fix with a little reprogramming to that page to make the full diamond search form appear without any scrolling.
Other than the display flop on this page, I wonder if having this page is needed at all. Most jewelers who have diamond search pages also have photos, catalogs, or details of the engagement rings they carry. Murphy's Mountain doesn't mention engagement rings anywhere on their website. Should customers assume that they carry engagement rings?
One important thing to know about Google is that they only know what you tell them. Someone searching for engagement rings in Wyoming probably won't see Murphy's Mountain Jewelers in the search results. Jewelers often tell me that engagement rings are a large part of their yearly sales; in this case, I bet Murphy's Mountain could increase their yearly engagement rings sales if they added another page to their site with photos and details of what engagement rings they offer.
More Hidden SEO Treasure
Speaking of hidden details, I just realized that Murphy's is a supplier for the local DIY beading community. The "All Silver Design Beads" page has 3 photos of what they offer, shown here: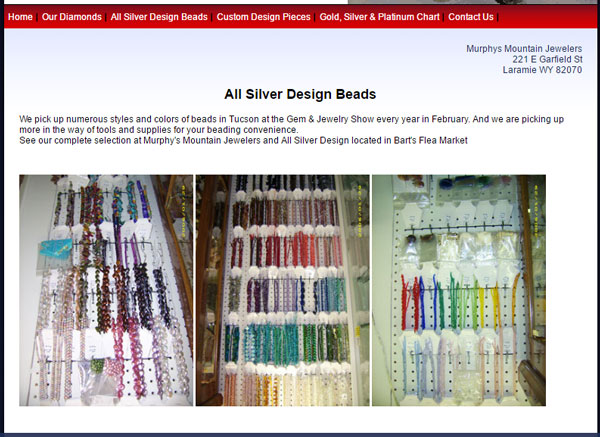 They should expand this page to include the beading tools and supplies they sell, and close-up photos of their more popular beads.
I'd also like to see them add a few how-to blogs or videos to help those who are interested in getting started with beading. Those blogs and videos would attract attention and bring more awareness to what they sell.
Custom Work
One of the 6 pages on the website gives a brief glimpse of their custom design work. This page would be much better if it had a few more photos and then a story explaining each of the photos.
The photos also need to be in focus. This photo here is the first thing you see when you visit the page: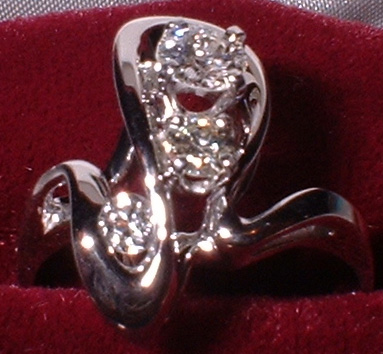 Although you can see the 3 different sized diamonds and the wavy design, the fine detail is obscured because it's not in focus. Many jewelers have learned to take pride in their custom design work and they post beautiful photos on social media and their website. Murphy's Mountain needs to take more pride in their custom work and display it correctly online.
Unnecessary Information
Sometimes too much information will lead customers in the wrong direction, or it simply gets in the way to converting a website visitor into a real customer.
At the time of this writing, the NY Spot Gold price was $1,264.40, the NY Spot Silver price was $17.11, and the NY Spot Platinum price was $999.00. Why do I mention this? Because Murphy's has them listed on their website: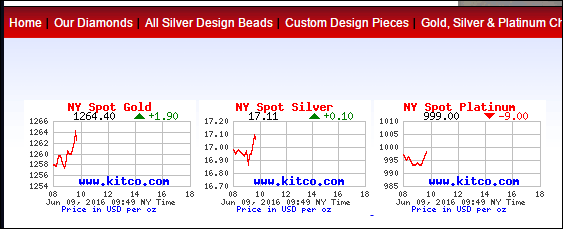 Like the diamond search page, there's no apparent reason to have this information on the Murphy's site other than it taking up space. The home page does indicate that they buy gold, but that bullet point is easy to miss.
If gold buying is lucrative for them, then they should flesh out the details on this page a lot more. They should add a headline that says "We Buy Gold" and the explain how the customer sells it to them. The words buy, buying, sell, and selling gold should be included in the written details of this page.
In my research, I find that people who want to sell their old jewelry are often confused on which search term to use. I often see search phrases like "sell my gold" and "who buys gold," among many other confusing phrases. As I said earlier, Google only knows what you tell it, so you have to include some of these words.
Closing Thoughts
Murphy's Mountain Jewelers probably doesn't feel threatened by any of the other local jewelers, and therefore doesn't care much about their online identity. However, it would be very easy for one of the other local jewelers, and even for someone in Cheyenne to establish a good online site that targets residence within 100 miles.
The new wave of successful businesses includes those who have strong online identities and websites. I'm not saying that you can't be profitable without a website, but it's easier and your customers expect you to have a lot of easy to read/use information online.
I'll see you next time...
FTC Notice: I randomly choose this website and won't be telling the retailer jeweler that I'm giving them these flop fix ideas. Unless someone else tells them, they will only find out about this Nugget if they use Google Alerts or examine their Google Analytics and Google Search Console. I'm not doing this to solicit business from them, but rather as an educational exercise for everyone. This #FridayFlopFix is completely impartial and all my comments are based on previous experience in my website design and marketing agency, and from my personal research data.