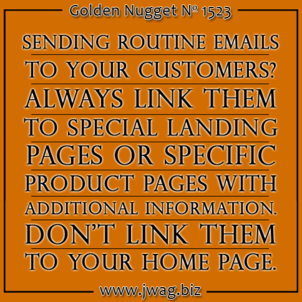 Over the last 6 years, I've subscribed to more jewelry email lists than I can remember. Whenever I do a website review, I look for the newsletter signup and add myself to their list. Most of the time, I never hear from those retail jewelers because they don't follow through with their email list.
Amidon Jewelers, in New Hampshire, is one of the few independent retail jewelers that I know that has consistently sent me emails since I signed up to their list way back in 2012. Years ago, they were sending emails with editorial content and many links to their website; they've since moved on to just sending emails with event information, sales, and other special offers.
This morning, I woke to find this email from them:

It looks like they have some really good deals for Black Friday. They are giving away gift cards or free gifts for every purchase of $299 or more. The more money you spend, the greater the free gift. I like how the email has all the gift details for the qualifying purchases, however, it is lacking any direct links back to their website.
I just reviewed all the emails Amidon sent me over the last 12 months. Although each email mentions specific products or events, very few of those emails have links back the specific page or product on their website that the email is announcing.
By my count, it looks like Amidon promoted Le Vian jewelry in 5 of their emails so far in 2016. Only one of those emails had an active link back to the Le Vian jewelry page.
Clickable Logo
The only active link in the above email was the logo at the top, shown here: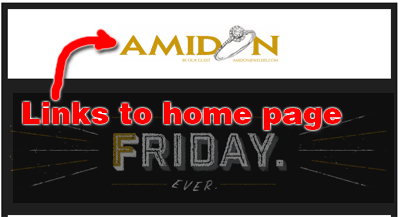 The logo links to their home page, not to the details of the Black Friday promotion. Looking back over all their previous emails, I see that their logo is always clickable to their home page. This is what their home page looked like at the time I wrote this review: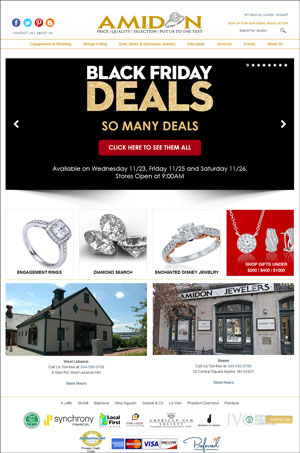 The home page shows a banner with the Black Friday Deals which clicks to their News and Events page.
This is what the mobile version of their home page looks like: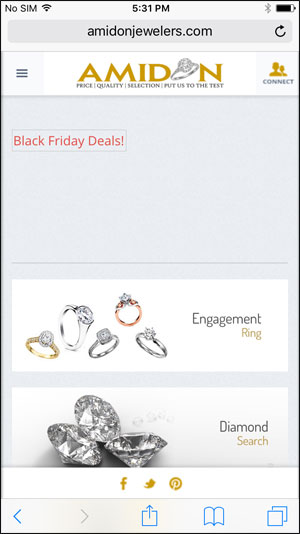 I assume that same Black Friday Deals banner should be visible, but it's a broken image. The words "Black Friday Deals!" appear where the image should be. It looks like they didn't test their mobile site when they added the banner to their content management system.
No Need For The Extra Click
When I first signed up for the Amidon Jewelers newsletter back in 2012, it always had a lot of editorial content along with the routine special offers. Looking back in my email archives, I also see that each editorial had a link to a different page of their website. Each special offer also had appropriate links to the products being offered.
Back in 2012, Amidon Jewelers was outsourcing their monthly email newsletter to a marketing company, but today I assume they are managing their emails internally. My assumption comes from the fact that they are making consistent rookie mistakes in their emails, mistakes that a marketing company wouldn't usually make.
Specifically, they are not including direct links from their email to the appropriate pages of their website. When someone subscribes to your newsletter, it's probably because they expect your emails will have quick information and will lead to more details on your website.
Linking your email to your home page defeats the purpose of the email because you are forcing your subscriber to waste time clicking through your website for those details.
In your email marketing, whenever you mention products, events, or promotions on product categories, you should link directly to those individual products, event pages, or categories in your online product catalog; anything less than that and you are wasting your reader's time.
Speaking of wasting time, that home page banner leads to this page: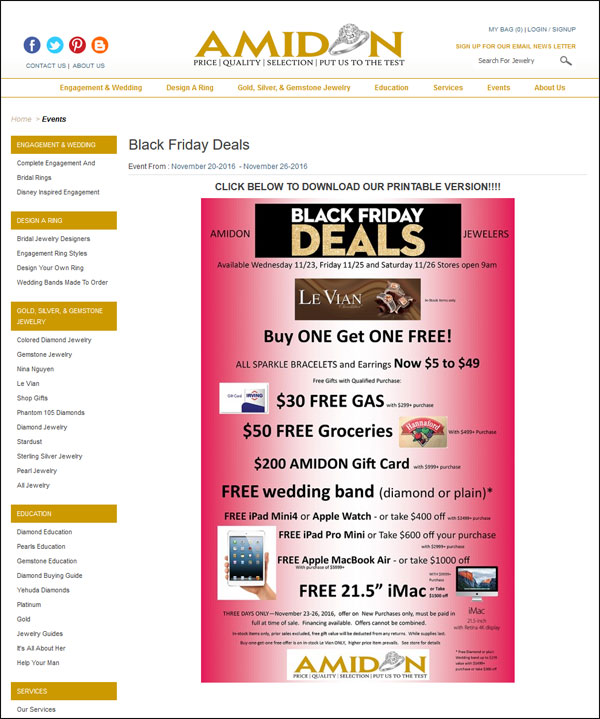 That News and Events page has the same information that's in the email. This is a real waste of time for the email subscriber who is probably looking for more information.
Give Me More, Be Specific
The Amidon email shown above says "Buy One Get One Free. On All in-Stock Le Vian!" As an email subscriber, I was immediately curious to see what Le Vian styles they had in stock, but the email doesn't link to a Le Vian page.
I was surprised to see that Le Vian wasn't listed at all in their top menu links. They have links to other designers, like Maevona, Sholdt, A. jaffee, and True Romance, but not Le Vian. I didn't find a link to the Le Vian page until I viewed the Black Friday Deal page and noticed the Le Vian link in the left menu as you can see here:

It would make more sense to link directly to the Le Vian page from the email so I can look at their in-stock Le Vian items. Instead, I had to click from the email, click on the Black Friday banner, and then click on the Le Vian link. That's 3 clicks, 3 page load times, and 2 more chances that I might lose interest before finding this Le Vian landing page: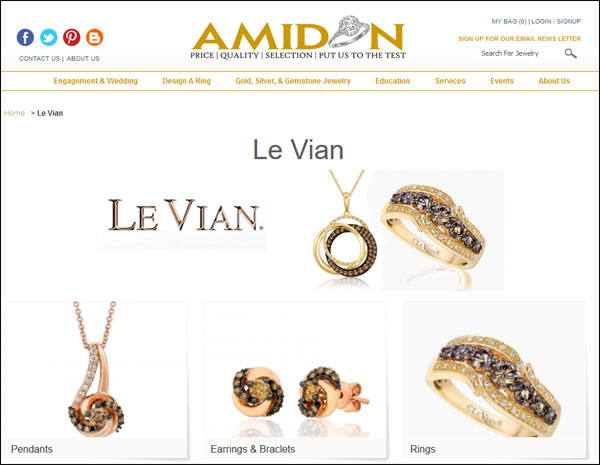 If I was a real Black Friday shopper, I would be rushing to several stores all day long. I would also plan my entire day according to what I find online. My expectation is that all the Le Vian items on the Amidon website are the actual items they have in stock. I'd be very disappointed if their in-store inventory isn't what they show online, and I'd consider it false advertising.
Consumers expect that your online catalog reflects what you have in your store, especially during the holiday season when time is limited and many are planning their in-person shopping trips before they leave the house.
Email Follow-up Even More Dissapointing
Ironically enough, while writing this Golden Nugget, I received a second email from Amidon Jewelers. The first email was actually sent last night followed by this email this afternoon:

I indicated 3 blue arrows in that screen grab for reference.
Arrow 1:
The first part of the email mentions a door-buster special for their Sparkle Bracelets and Earrings. They then include a URL to their News and Events page. However, their News and Events page doesn't say anything about door-buster specials, and I can't find the Sparkle Bracelets and Earrings mentioned anywhere else on their website.
They should have linked directly to the Sparkle Bracelets and Earrings page.
Arrow 2:
The second arrow is pointing to a missed opportunity. This email mentions the buy one, get one offer for Le Vian jewelry, but they did not include a link to the Le Vian page.
Arrow 3:
This last arrow points to the only URL that is correctly positioned in this email. This part of the email briefly mentions the different free gifts then gives the URL to the additional information.
Oops... Those are URLs rather than links
I noticed that the website URLs they included in the email were not direct hyperlinks, they were just website addresses. This is another rookie mistake when sending emails; you should always take a moment to link everything.
That said, they might not realize they made this mistake because some email clients will auto-correct this problem. Some email clients will recognize a URL and automatically turn it into a clickable link. For example, my Firefox email client does not convert this text URL to a link, but the email reader on my iPhone does. On my desktop computer, I have to manually copy/paste the link into my browser, but thankfully I don't have to do that in the iPhone.
You should test your emails and your website on several different browsers, devices, and clients in order to insure that everyone is having the same, correct, experience. This type of testing is one of the reasons you would consider having a marketing agency manage your emails instead of doing it yourself.
That's it for this week; I'll see you next time...
FTC Notice: I randomly choose this website and won't be telling the retailer jeweler that I'm giving them these flop fix ideas. Unless someone else tells them, they will only find out about this Nugget if they use Google Alerts or examine their Google Analytics and Google Search Console. I'm not doing this to solicit business from them, but rather as an educational exercise for everyone. This #FridayFlopFix is completely impartial and all my comments are based on previous experience in my website design and marketing agency, and from my personal research data.