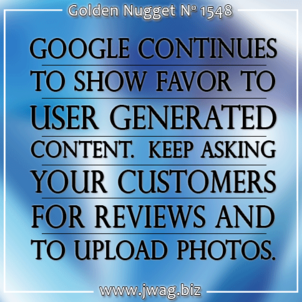 Google made a significant change in the search results page layout over the last 7 days that removes the powerful advantage that they'd bestowed upon local businesses for about 10 years. Today, I'll dive into the details of those changes.
A Little Background
Google created their original Local Business database in the early 2000s and has morphed it through many permutations with names like Places, Maps, and Local. Today, they call it "Google My Business" or just GMB for short. Having your business included in the business database meant that your store would appear whenever Google detected a local business search intent; that is to say, Google will show a list of local businesses whenever a town name, a business category, or the words "near me" are used in the search query.
Originally, Google showed a list of 10 businesses, but for the last few years they've limited that to only 3 businesses. This list of businesses is known as the "local pack."
The Recent Past
The businesses listed in the local pack always had an advantage over all the organic results below them. Sometimes, that advantage was a website link, a click to call link, a link for directions, and for a while they even showed a link to the business Google+ page.
Last week, the local pack included a website link and a directions link, as indicated here with the red arrows:

Notice that the blue arrows shown above are pointing to the organic results for that search, but they are not the same as the 3 jewelers shown in the local pack. In general, users will click on the websites shown in the local pack and never scroll down to see the organic results, and that was the advantage.
The criteria for ranking in the local pack is completely different than the signals used to rank in the organic results. Shown above, you can see Ann Marie Fine Jewelry as the highest organic result but that store is not shown at all in the local pack. In fact, none of the 4 jewelers shown in those results appear in the local pack.
It costs far less time and effort to rank your business in the local pack than it does to gain a high position in the organic results, so imagine how angry you might be if you spent thousands on your SEO only to be usurped by a competitor that is listed in the local pack even though they have a bad websites. It's aggravating, which is why I'm always recommending that you always add new photos, update your store hours, and reply to your reviews within your My Business account. The hope is that your continued activity will help you appear in the local pack.
However, it seems Google has just leveled the playing field...
Local Pack Changes
As of today, the local pack does not include a link to the website or the directions when viewed on a desktop computer. The mobile results haven't changed, only the desktop computers look like this now:

The red arrows shown above are pointing to the photos that were uploaded to GMB. These photos might have been uploaded by the store owners, by customers, by Google Trusted Photographers, or by Google Local Guides. Stores without photos are shown with a map icon.
Now that the website link is removed from the local pack, users would have to click the listing and jump into Google Maps before finding a website link. It's much easier to scroll down and look at the organic results as indicated with the blue arrows in the above screen grab.
Google's objective is to help people find answers faster, I have to assume that this local pack change will lead people to more effective organic results rather than the poor website results that you might find in the local pack. Overall, I feel this is a good change for every business that has been spending money on their SEO.
Changes By User Generated Content
I hold credentials as a Google Trusted Photographer and a Google Local Guide; as such I have access to a few private forums that sometimes hint at upcoming changes. One recent announcement indicates that Trusted Photographers will have to change their photo upload process as of March 31, 2017. I have to wonder if this local pack change is an indication of what's happening within the photo community since this new layout gives the photos a lot of attention.
Your Google My Business account can have an unlimited number of photos, but the photos uploaded by you directly are not as important as the photos that are uploaded by your customers, a Local Guide, or a Trusted Photographer. Within the forum I read, it seems like Google is leaning toward giving a lot of weight to user generated content rather than what you upload to your business.
I've notice that the Google Maps app is constantly asking users to confirm details and offer updates. The changes made by random users often supersede what you might enter yourself. In other words, Google is trusting user generated content more than your own information. This does get frustrating, especially when Google allows strangers to change your store hours.
Getting Into The Local Pack
As soon as I saw the local pack layout change, I went back to several older Friday website reviews to see what might have changed. The order of the results came out the same for the reviews I checked; the only difference was that the photo icon replaced the links for websites and directions.
I can only conclude that the selection method used for the local pack results has not changed. Although the true nature of appearing in the local pack is unknown (just like Google search results algorithm) the follow is a suspected list of 13 items that help you get listed:
Get more Google reviews
Claim your business listing
Use your actual business name
Do not use town names or keywords in your business name
Use a local phone number, not a toll-free number, and not a tracking number
Select your business categories
Add photos
Add a virtual tour
Add store hours, and keep them updated
Add your website
Make sure your Yelp information matches what you enter into Google
Make sure you're your YellowPages information match what you enter into Google
Search for your business name and update any other business listing you find
This list hasn't changed for a few years. To confirm this list, I did a quick cross reference to other reputable SEO agencies and news sources, but few people have written about local pack listing since 2015, so it seems the above list is still correct.
Conclusions
Google changes something every day, which is why you need to try to keep informed. I feel this recent update will help everyone who spends time on their SEO process, which should make a lot of business owners happy once they see their SEO expense is returning better results. If you dismissed paying for SEO service in the past, then it's probably time to reevaluate that decision.
User generated content is becoming more important, and it seems like more weight is being given to reviews, photos, and virtual tours that are uploaded to Google Maps. If you'd like to be listed in the local pack, I recommend you create an ongoing customer review and photo campaign.
That's it for this week; I'll see you next time...