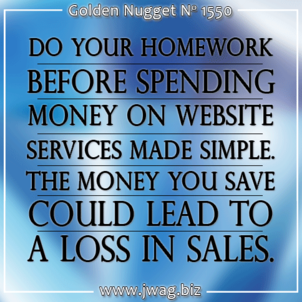 It seems like once every year I come across another website using the Hibu service. Their corporate website says they are a leading provider of digital marketing to local businesses across the US, UK, and Spain. They say that they provide one-on-one service to unify digital marketing, website development, and SEO.
It all sounds good to the small business owner who is looking for an all-in-one online solution and doesn't have the time to learn or the money to hire the right people to do it. Hibu has a compelling sales pitch, and they are the same company as YellowBook, which seems to still carry a lot of goodwill with some people.
I started my routine search today, this time with "jewelers St Augustine, FL" and was given this list from Google:

For these reviews, I usually seek out the lowest ranked website and try to figure out why they are ranked so low. Carter's Jewelry is the last in the list, so I naturally clicked on that one first. I've already written about the bad qualities of the
Hibu
service
several
times
, the most recent being almost a full year ago. I decided to take another look with fresh eyes to see what Hibu is doing now, and potentially figure out why this site is ranking in 10th place.
First Impressions
The Carter's Jewelry website is located at
http://cartersjewelry.net/
, this is what it looked like when I first visited: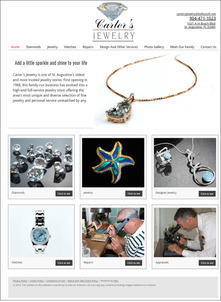 (click to enlarge)
The site has a simple, older looking layout with several visually offered choices to go deeper into the site. I quickly realized that it wasn't mobile responsive, so I switched to my smartphone and was pleased to find this version of the home page:

What surprised me the most was that Hibu is using the "Dynamic serving" method of mobile friendly websites as defined in Google
Mobile Friendly Websites Guide
. This is an advanced version of mobile website development, and it makes sense that a large company like Hibu would be using it.
With Dynamic Serving, the website automatically detects if you are using a desktop computer or a mobile computer, and it sends a different set of code that is fine tuned for your device. The software my company uses does the same thing, but we call it "responsive content."
This new mobile-friendly Hibu technology impresses me, and the content on the site all seems to be viable.
The Effect Of Mobile Ranking
When Google first started measuring mobile-friendly websites in 2014 they included a "mobile-friendly" label in the search results to let smartphone users know which sites would be best for them. In August 2016, Google
announced
that they would remove the mobile-friendly label because 85% of sites had achieved mobile status.
Mobile-friendliness is one of the criteria for ranking your site, so those without mobile are probably going to be ranked lower. However, when I looked at all the other retail jewelers ranked above Carter's, I find the following:
| | | | | |
| --- | --- | --- | --- | --- |
| Ranking | Storename | Domain | CMS | Mobile Type |
| 1st | Blue Water Jewelers | bluewater-jewelers.com | Punchmark | Responsive |
| 2nd | Nettles Fine Jewelry | nettlesfinejewelry.com | WordPress | Not Mobile Friendly |
| 6th | Neff Jewelers | neffjewelers.com | iWeb 3.0.4 (discontinued Mac website builder) | Not Mobile Friendly |
| 8th | Madalyn's Jewelry | madalynsfinejewelry.com | WordPress | Not Mobile Friendly |
| 10th | Carter's Jewelry | cartersjewelry.net | Hibu | Dynamic Serving |
According to that table, it looks like Google isn't giving much weight to the mobile-friendliness attribute of the websites; otherwise it would make sense that Carter's would rank higher than it is.
I've seen similar results ever since Google said it was using mobile-friendliness as a ranking indicator; at the moment it still seems like a very small portion of the overall ranking algorithm. That doesn't mean you should ignore mobile websites, absolutely not, it just means that your reason for building a mobile website should be for customer satisfaction rather than Google ranking.
So Why Is It Not Ranking Well?
Bad URL usage
The first thing I see is that the URL structure Hibu uses is not people friendly. For example, I said the website was
http://cartersjewelry.net
but after clicking around a few minutes I noticed that the home page URL was actually
http://cartersjewelry.net/home/1783340
Similarly, the watches page was
http://cartersjewelry.net/watches/1783431
The other competitors in St. Augustine are only using words in their URLs, making them look a lot friendlier when found in search results. Google does look at the words in your URLs, and it's a waste of SEO power for Hibu to use this method. I'm surprised that they got the mobile-friendly feature working so well, but they still manage the URLs as if every page is a database number.
Potential Bloating
As I explained in detail a few weeks ago,
bloated code
could also cause a website to rank lower. Doing a quick count of the source code and the visible words yielded the following percentage of visible words on the home page:
53% visible - bluewater-jewelers.com
07% visible - nettlesfinejewelry.com
10% visible - neffjewelers.com
14% visible - madalynsfinejewelry.com
06% visible - cartersjewelry.net
Even though Nettle's is only at 7% they are ranking in 2nd place while Carter's with 6% is all the way at the bottom. Once again, this tells me that the bloated code isn't a highly weighted item within Google's algorithm.
Lack of Updates
I saved this for last because I believe this is the only reason this website is ranking so poorly. Simply put, the site content hasn't been updated since the Hibu site was launched in May 2014. All the other sites have had at least 1 update to the home page since then.
Google would rather show people new information than something that's a few years out of date. This seems to be a very large factor in website ranking and it's why so many SEO professionals (including myself) will tell you that your ranking position will slip shortly after you stop updating your website on a regular basis, at least monthly.
Hibu Pricing
Before I concluded for the day, I want to quickly touch upon Hibu's pricing structure and
customer satisfaction rating
.
According to the reviews posted to the Consumer Affairs website, Hibu has a 1-star rating with 274 reviews as of this writing. Many of the complaints against the company say that the person was quoted between $500-$700 per month but the real cost was nearly $2000 per month after all the extra features were added in.
Hibu also uses part of your monthly service fee to pay for online ads through their YellowBook network. These are pay-per-click ads that appear on yellowbook.com to boost your listing to the top when someone searches for your business category in your area. In my opinion, if you are going to pay for online ads it's better to choose Google AdWords, Facebook Ads, Instagram Ads, and even Bing Ads would be better than spending the money with YellowBook.
I'm a big believer in Google AdWords Express ads for small, local businesses. You can get decent results with just $300 per month. With Hibu, according to several of the Consumer Affairs reviews I've read, it seems you are locked into a minimum $500 per month contract in perpetuity. That's at least $6000 per year. Just so you can see a realistic comparison, if my company were to build this website it probably would not be more than $3000 for the setup and initial content entry the hosting would then be $300 per year. At those prices, and assuming a slow ramp-up with AdWords, the first year cost would be $6300, but only $3900 ever year after that. You also have better control for targeting your ads and even the ability to change or even turn off your monthly budget.
Financially, Hibu just doesn't make sense for any small business. It's one of the internet's longest standing rip-off companies for small businesses that don't know any better and don't read the fine print in contracts..
One last thing I'm also gleaning from the reviews is that they treat customers like account numbers rather than real people. Many of the reviews mention telephone support that seems to be reading scripts and really do not use the system at all.
I don't often publicly bad mouth a company, but my hope is that this review will prevent a at least one small business owner from making the mistake of signing up with Hibu and YellowBook. If that's you, please let me know.
FTC Notice: I randomly choose this website and won't be telling the retailer jeweler that I'm giving them these flop fix ideas. Unless someone else tells them, they will only find out about this Nugget if they use Google Alerts or examine their Google Analytics and Google Search Console. I'm not doing this to solicit business from them, but rather as an educational exercise for everyone. This #FridayFlopFix is completely impartial and all my comments are based on previous experience in my website design and marketing agency, and from my personal research data.