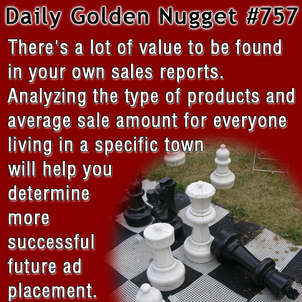 Today's Daily Golden Nugget is deviating a little from my normal internet related discussions and instead touching on some traditional methods of advertising. This is the second in a multi- part Nugget series that explains how to segment your customers into groups and then create targeted advertising for that group.
In later Nuggets I'll explain how to target new customers through specific, segmented Search Engine Marketing (SEM) and existing customers through direct mail and email. But before we get to that, I need to review some methods of analyzing your previous customer sales and demographics.
Perhaps the fastest way to organize your customers according to demographics is by organizing your sales according to towns. Assuming your computerized point of sale program allows it, you should run a report of all sales for each individual town.
Within the report for each town you should organize the sales according to product type, vendor, and price points. You're looking for trends within each town. Do you sell more bracelets to the residence of one town but not another? Are the price points for one town higher than another? Are you selling items of similar style into specific towns or areas?
Keep these questions in mind as you look at your sales reports because your sales reports are more than just a statement of how much money you made, but also a broad blueprint of the people who live in those towns.
I would expect that sales of engagement ring would appear throughout your town reports, but the average dollar amount of those sales might be higher on average for a few towns. Does the dollar amount of your engagement ring sales correlate at all with what you know about the general income level for residence of that town?
Other than the jewelry you sell, you should also look at reports of the services you offered. How many mothers brought their young daughters to your store for their ear piercings? How many people come to you for ring resizing, watch repair, stone resetting, or custom designed jewelry?
Between the items you sell and the services you provide, if you mapped out exactly where these people lived you would have a good understanding of where you should place specific ads to sell specific services; inversely, you might realize some places where you should never place an ad for a specific product.
It is possible to overanalyze your sales reports, and I don't want you do to that. Instead, I want you to objectively look at this information to make an educated decision before placing an ad. Let me give you a simple example...
In honor of Father's Day being this past Sunday, I'm going to use watches for this example.
I know that back in April different local ad agencies probably offered you placement on a billboard, in a local newspaper, coupon circulars, and other local advertising that are specifically targeted to individual downs. These agencies were probably enticing you to place ads for a flight schedule in early June with Father's Day intent. This is a perfect time to advertise the various watch lines you have in the store.
It might seem normal to make a single ad and reuse it across the newspaper, circulars, and billboard. Naturally it will need to be reformatted differently depending on the placement, but the ad remains the same. It might also seem normal to have the same ad distributed to 5 different regions that include multiple towns each.
Before placing that single ad I suggest you look at your sales reports. Your original advertising idea might be to show a Casio for $94 side by side with a Bulova for $285, but your reports should clearly show you the town that is more suitable for the Bulova ad because you consistently have higher average sales per person. The Casio ad would be more appropriate in towns with lower average sale value per person.
What I'm explaining here is the initial steps for understanding how to determine your advertising placement based on previous sales records, and my example is based solely on item value compared to average sale value for people living in a town.
Data analysis can be time consuming, but the when you start to segment your local towns you will gain a better understanding of what types of items might be better to advertise in one town over another.
Now, all that said, once you start fine tuning your ads like this you also need to better track your customers during a sale. You will have to ask existing customer and new customer if they saw your ad in their town. Instead of asking "did you see our ad?" you can more specifically ask "did you see our Bulova watch ad?"