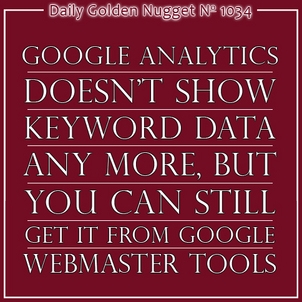 This short post is part of my "Grains of SEO Gold" series covering basic SEO topics and how to apply them.
Today's SEO Topic: Keywords
Once upon a time, if you wanted your website to rank for a particular keyword, you would simply include that word on your web pages a specific numbers of times in order to get top ranking in the search results.
For many years, it was a competition of keyword density between different websites that wanted to rank higher.
Those web pages with high repetitive keyword densities were difficult to read but they were working well for the algorithmic process that Google used to rank websites. Google eventually figured out a way to penalize those high keyword density websites in favor of the natural sounding sites.
In hopes of creating a shift in how search engine marketers were thinking, Google started hiding some, then all keyword data from Google Analytics.
Other than looking in your Google Webmaster Tools account, there's no way to really see all the keywords that your website ranks for. Although it seems like Google is leaving you shielded from a really important SEO metric, their hope is that you will not worry too much about keywords and instead build content based around the products and services you sell.
That said, I received a request recently to publish a list of the popular keywords that jewelry websites usually rank for.
Here's that list:
jewelry stores - this phrase is often paired with the local town name and state.


jewelry repair


round diamond engagement ring


engagement ring - add your town or state after this phrase


jewelry


sell gold


pandora charms


fine jewelry store


where to sell gold


ring designs


jewelry appraisal


jewelry watches


jeweler - add your town or state after this phrase


diamonds


estate jewelry


designer names - this is not an actual keyword phrase, but rather the collection of hundreds of jewelry designers. Every website with specific designer information always attracts organic visitors looking for that designer.


birthstones - This is not any specific birthstone that is more popular than another. All birthstones are popular for each of their respective months.
In reality I've tracked more than 6800 keyword permutations over the last 30 days, but the ones listed above are the most prominent from the entire list.
Even though I'm publishing this list, I want to make it very clear that you shouldn't blindly follow it. Instead, you should look at the products and services you sell in your store and add appropriately related content to your website to promote that stuff.