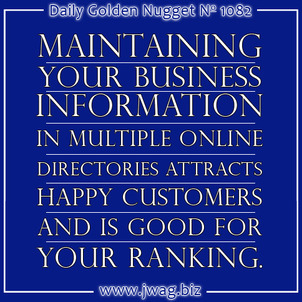 I've always believed that a local business should pay attention to how their company appears online. There are hundreds, maybe even thousands of random business directories where public business and store information can be found.
These business directories often get their start by purchasing lists of business names to populate into their sites. Databases of company names, addresses, owners, phone numbers, and business types are all available for purchase through agencies that track business registrations. These purchases are bought in bulk for ease, not to acquire super secret data.
Your business information is out there whether you want it to be or not. Just to be clear; whatever information you included on your business registration, including corporations, partnerships, or simple local country or town registrations, will officially enter public records.
Do you remember what information you entered on your original business registration? Was it your home address? Your home phone number? Or maybe you paid a lawyer to register your business using their address and phone number as the registered agent?
Another thing to consider is that many businesses have a corporation name that's different than their trade name.
When it comes to online marketing and coordinating how your business appears online, this original address information can come back and haunt you time and time again, especially when it comes to local search results.
Business directories can make a lot of money, and that's what their goal is anyway. They populate their website with databases of businesses then add their own content to the websites in hopes to attract organic visitors. They sell advertising or load their site up with Google AdWords. Honestly, it's easy money, but it's not a lot of money.
Of course you don't care about how much money they make, and most of the time you probably don't even care about the hundreds of directories that might have your information in it. But you should have a keen interest in the larger business directories. Here's a list of the directories I feel are important:
1. Yelp.com
2. AngiesList.com
3. YellowPages.com
4. SuperPages.com
5. Citysearch.com
6. DexKnows.com
7. InsiderPages.com
8. JudysBook.com
9. Kudzu.com
10. MerchantCircle.com
11 Patch.com
12. Local.Yahoo.com
13. YellowBook.com
14. Manta.com
Each of these systems gives users the ability to write reviews; that's probably the one commonality between them all. It doesn't matter how big or small the directory site it, they always have reviews.
Another commonality isn't visible, but it's in the way they all program their sites. They all use some type of
schema or rich snippet
that helps search engines read all the business listing information. Earlier this year, I started to notice some of the smallest and most obscure directories appearing in the reports I was processing for retail jewelers. Sure enough, some of those obscure directories had outdated business information in them.
About two months ago, Google changed its search algorithm in such a way to give more validity to all business directories. The 14 directories I mentioned above are ranking really well for local searches at the time I wrote this.
In case you don't know, a "local search" is any search that includes town names. Every Friday, I use local search phrases like "jewelry stores Totowa nj" or "jewelers near Totowa" to activate "local results" which include a list of businesses.
Google's local search results will include a list of businesses that come from their own "Google My Business" (aka Business, Local, Places, Maps, +Local, et. al. and take a shot if we are still playing that game). The Google SERP business listings now lead directly to Google+ Pages or to reviews.
Google scours the web for other business directories that might have more updated information than what's in their My Business database. They seem to give greater ranking to businesses that have identical information across all business directories that also matches what they have on file.
They don't personally interview business owners for accurate information, so they have to use automation to determine higher levels of confidence before showing a business in the search results. That old information can haunt you by lowering Google's confidence about you. That in turn will lead to lower ranking.
Of course each of the business directories is competing in search ranking too. There's many times when Yelp and YellowPages will outrank the Google My Business results.
Click here to see my recent Friday review
and you'll find an example of YellowPages.com outranking the Google business listings.
You can use your own Yelp or YellowPages (or any of the others lasted above) to outrank all the other business in your local search. Simply log into your accounts on those sites and make sure all your business information is accurate. Make sure to add a description and assign yourself to an appropriate business category, like jeweler, watch repair, etc.
You should update as many business listing websites as you have the time for, starting with the 14 I listed above. Make sure your business name, address, phone number, and business categories are as identical as possible from website to website. Oh, and make sure that it all matches what you have in your Google My Business account too!
There are several services available that will update your business information across dozens of directory website, but my
previous
experience
with automated services was horrible.
My company sells a "NAP Service" to update the "name, address, and phone number" across multiple websites, but it's all manual... and time consuming. You could easily do this yourself, but again, it's a lot of time.
Regardless what Google is doing with their algorithm, it's simply good business to maintain every directory site with your information. Whenever possible you should stipulate your non-holiday hours and your website. Include a general description about your store, products, and services that will be just as valid 5 years from now as it is today. Most people only update their business listings once, which is understandable since there are so many of them.
Do yourself a favor and conform all your business information wherever you can find it online. Then go back and review the popular directory websites regularly to keep them up to date and to reply to online reviews.