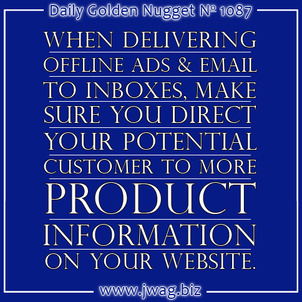 This is the second part of my Daily Golden Nugget series outlining a potential marketing plan for the upcoming holiday season. The
first part
I began yesterday explained how you should select a specific set of jewelry items and then write blogs, take photography, and make videos for those items.
Today, I'll go into some detail about launching the marketing campaign that's supported by the content built yesterday.
Overview of the Marketing Campaign
Outlined below are some examples of how you can set up the individual types of marketing for this marketing plan. I've included new media and traditional media in the campaign because local businesses are still using a lot of off-line programs.
Please refer back to
this Nugget about different marketing channels
for a fleshed out discussion on the usefulness of each offline and online marketing channel.
All the social sharing and online marketing will direct people back to your website or into your store. The key is to drive them to one of those places rather than engaging them through the social media network simply so they can be tracked. The free Google Analytics tracking software will provide all our online tracking, but you'll have to take manual action to track people in your store.
By the way, there are tracking methods you can use to help you measure your marketing efforts on social media, but those methods are more expensive than what most small businesses can afford. Besides, until you learn how to read your own Google Analytics, paying for some other higher level tracking is simply a waste of your money.
Marketing Step 1: Plan newspaper ads
In this world of advanced online digital marketing, it might come as a surprise that I would suggest print advertising as still an important part of your campaign. This includes your local newspaper and direct mail. You'll probably have a better ROI from a local town paper than a county or regional paper.
Take a look at the newspaper readership numbers reported in the Newspaper Association of America's
March 2013 readership reports
:
Percentage of people in your local area reading newspapers
| | | |
| --- | --- | --- |
| | Weekly Newspaper Print | Sunday Print or E-edition |
| Income less than $50K | 57% | 38.9% |
| Income $50K - $99K | 64.1% | 46.4% |
| Income $100K - $249K | 64.9% | 47.7% |
| Men | 60.8% | 41.9% |
| Women | 60.8% | 44.1% |
| Age 18 - 34 | 49.4% | 29.6% |
| Age 35- 55 | 65.6% | 48.7% |
From this data, we can see that it's more worthwhile to advertise in a weekly print newspaper than a Sunday newspaper, even though they are also measuring e-editions as part of their Sunday sample.
Your newspaper ads should have attractive photography of your jewelry rather than simply those on a while background. These editorial type photos should include a lot of color and direct the newspaper reader's attention to the jewelry. My suggestion is to have unique photography shot for the print ads that won't be used elsewhere.
Tracking print ads is always tricky, but the easiest method is to purchase another domain name for your ad. The might seem strange, but think about it for a minute. Print ads usually include a call to action for people to visit a website for more information. Rarely will the website address include a specific page or even a
Bitly shortened
link; most of the time you just see the website, and many times you simply see the domain name without the "www" or the "http://" part of the address.
You should use multiple domain names throughout the entire print campaign. If you're planning 4 weeks of printed ads, you should be using 4 different domain names. Later in this Nugget series, I'll explain a lot more about selecting the right domain names and keeping your domain names costs under control.
Regardless what website address you include in the print ad, you will want the reader to reach out to either the blog page or the product detail page. The one you direct them to is determined by the ad copy. If your ad says "read this product review," then you want to direct them to the blog. But if it says "show now," then you want to direct them to the product detail page.
Create a calendar of which products will be advertised in the newspaper each week and make sure your employees are aware of what they are.
Marketing Step 2: Plan direct mail
Let me just say that the reports of direct mail demise are greatly exaggerated. Jewelers all over the US are reporting a resurgence of direct mail success when using oversized or odd shaped mail. There's less junk mail now, which means your odd shaped piece will stand out.
But odd shapes are not enough to generate interest. You're going to need an attractive photo of the product. This is where the DSLR camera becomes important because you will need a photo with a huge resolution to capture the fine details of your jewelry. The photo itself needs to command attention, and you just can't get that (yet) from a smartphone photograph.
The printing quality of your direct mail is going to be a lot higher than that of the newspapers. Direct mail is usually printed on glossy card stock which allows for really fine resolution photos while newspapers are printed on rag which bleeds colors and details together. Although you want good quality photos from your DSLR camera for the newspaper too, the quality of the direct mail will really need to stand out.
Direct mail also needs a good headline and description. Short. Concise. Informative. A good marketing agency should be able to handle the layout, headline, printing, and mailing for you.
There IS one thing I want you to do differently this year. I want you to include the invitation to "Find out more in this YouTube video." Unlike the typical "visit our website" or "like us on Facebook" this invitation to watch a video will stand out from the other ads.
YouTube has the built-in ability to shorten their URLs using the http://youtu.be domain, but don't use that! Instead I want you to look at
this Nugget from last year explaining UTM tracking
and then use a
URL shotener as explained in this other Nugget
.
Some people might not want to type in the tricky random characters generated by URL shorteners like Bitly, and there are 3 potential solutions for overcoming that barrier-to-tracking:
1. Create a custom shortened link name through Bitly. They allow you to customize their links.
2. Get yourself a short domain name that someone could quickly type on a mobile device.
3. Convert the shortened Bitly link into a
QR code
that you also include on the direct mail so people can scan them quickly as they rifle through their mail.
You need to coordinate the direct mail with the flight schedule of the newspaper ads. This is a reinforcement of the other ads for that week. Assuming you are using a marketing agency to put this together, make sure they account for the mailing time, especially if they are mailing from their out of state office.
Marketing Step 3: Plan your emails
Email marketing can either be in the form of an interesting newsletter, or it can be a pure solicitation. I'll tell you right now that your email campaigns will have a better chance of success if you are already sending emails every month all year long. There are too many businesses that collect emails all the time but only send emails during the holiday season. Those are the worst types of email marketing that are sure to result in large unsubscribers.
From the customer's point of view, you are only interested in emailing them when you want them to spend more money. The least you should be doing throughout the year is send a birthday email, just to wish them a happy birthday, and a reminder to come in for the free ring cleaning and prong check every 6 months. Better long term email marketing results will come from monthly campaigns that are informative and offer something.
Regardless of your past email marketing efforts, we will need to set something in motion for the holiday season. If you've been emailing at least once a month all year long then you can get away with special emails every week through the holiday season. But if this is your first attempt at email marketing, then you should limit your emails to once every other week, starting the week of Thanksgiving.
You can use the same photography in your email campaign as in your print ads, but if you have the chance, I'd rather you use a slightly different variation of the photo. It could be the same attractive background, just shot from a different angle.
Your email will need to link to your website. Where it links will depend once again on the copy in the rest of the email. You could, for example, include the first paragraph of your product review in the email. This way it appears as an editorial. In which case you would also provide a link to "Read the rest of this review" and a second link that says "Shop now."
Those 2 links should stand out in the email. One typical method is to use a large color button. Make sure to link the photo to the product detail page as well.
Oh, and we need to track those links too. Your email program will have a built in way to measure open rates, unsubscribes, and clicks, but we also need to measure the clicks through Google Analytics. You won't need to use special URL shorteners or different domain names in your email campaigns, but you do need to
use UTM tracking as explained here
to so those clicks can be measured.
In tomorrow's Daily Nugget, I'll continue with more of the specific marketing steps. Check back for the continuation...