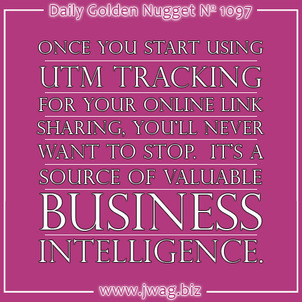 In a recent Daily Nugget, I presented a marketing tactic that would allow you
to use domain names to track print media ads
. I followed up that post with another that gave specific examples of how to set up
UTM variables in your URLs that can be tracked in Google Analytics.
What I didn't show you yet was how to find and read these UTM reports within Google Analytics.
This Daily Golden Nugget is part of a much larger continuing series on holiday marketing for 2014. I'm including the links to all related previous posts at the bottom. Although I've written about all these topics before, for this series of posts I've taken the single concept of marketing for the 2014 season and build a holistic approach of how you would tie all the pieces together.
But you don't have to go back and read the previous 9 parts because this one also stands on it's own.
The first thing I want to show you is the built-in Google Analytics Social report. You can get to it by clicking on Acquisition -> Social -> Overview in your GA account as you see here:

Google has put in a lot of effort into this social report in an attempt to show you how people will find your website, but I often find this report to be lacking. Take a look at this screen shot: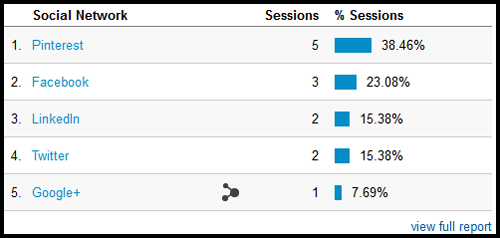 That shows all the social referrals to the jwag.biz website for the last 30 days. It seems quite pitiful that Analytics is only showing that people clicked the shared links only 13 times, especially since my team shares so many links socially.
In my office, we don't use this social report to track our activity on the popular networks that we constantly share to. Instead, we include UTM variables with every link we share so we can track them in a different report that you'll find when you navigate over to Acquisition -> Campaigns as shown here:

This is where you'll find all the UTM variables that you included in your socially shared links. Remember those variables? Here they are again as a refresher:
utm_campaign
utm_medium
utm_source
utm_content
utm_term
Here's how I organize them for all the socially shared links from jWAG:
page.html?utm_term=5AM&utm_source=mattfb&utm_medium=fb&utm_content=daily_nugget&utm_campaign=2014-09-16
Since that's such a long, and messy looking URL, we will
shrink it using Bit.ly before sharing it socially
. You can use the UTM variables any way you'd like that makes the most sense for you, here's how I use them to track the social shares of the these Nuggets:
utm_campaign=2014-09-16 - We track our campaigns by the date simply because we share so much information online. For the holiday 2014 season you probably should lump everything into a Holiday_2014 campaign name.
utm_content=daily_nugget - This is a brief description of the content that's being shared, which you can see is a Daily Golden Nugget. For the holiday 2014 season you should describe the shared link or ad, e.g. diamond_ring_ad
utm_medium=fb - This is the social network the link is shared to, in this case the fb naturally means Facebook. For the holiday 2014 season you could use fb, gplus, twitter, email, newspaper, billboard, radio, etc.
utm_source=mattfb - This is the specific social account the link is shared to, in this cast this is my personal account. For the holiday 2014 season you could use the same attribution model to identify your personal and business accounts. You can also use this to identify offline ads in different newspapers by using the newspaper's name here, e.g. the_bugle or the_record.
utm_term=5AM - This is the time of day the link is shared. I use this variable to track which time of the day our links are seen most, but this is probably something you won't use during the holiday 2014 campaign. Most marketers use this to track keywords that are populated to sophisticated methods.
Here's a snapshot of the jWAG campaign report: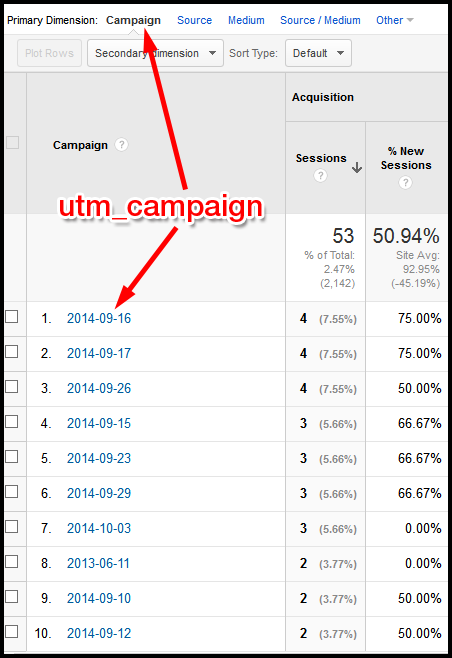 Notice how the "2014-09-16" campaign variable from the above example appears at the top of the report? That's simply because the shared links from that day were most clicked during the last 30 days.
Because of the way we use the utm_medium variable, clicking on the "Medium" link at the top of the report will show all the social networks as seen here: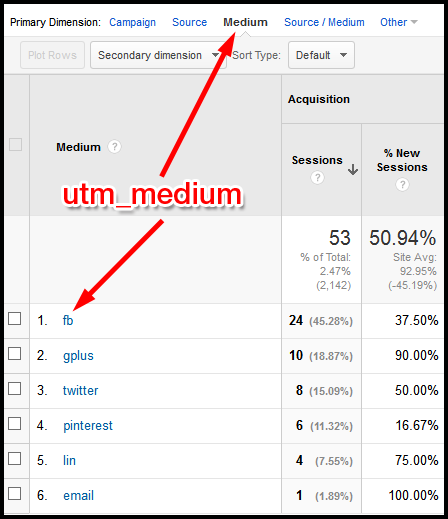 Compare this social network report to official "Social Report" that Google Analytics provides. The Social Report shows only 3 referrals from Facebook when the Medium report shows 24; clearly the built in social report is not capturing all the correct data.
Clicking on "Source" at the top of the report will show you how all your utm_sources were tracked as shown here: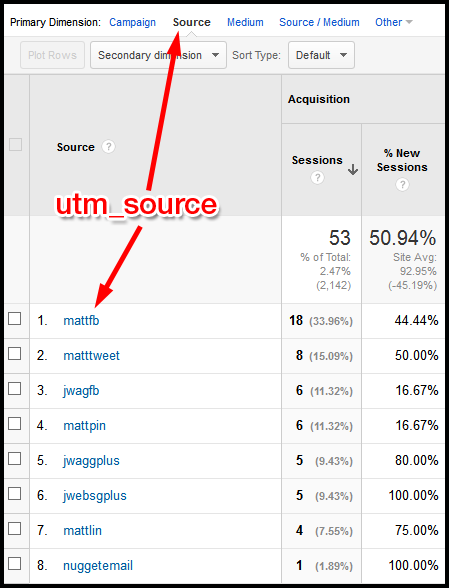 You can see the naming conventions that are used in the jWAG source attribution model. Your marketing person would have to figure all that out for you based on the types of reports you hope to produce after the holiday season is over.
Getting to the utm_term and utm_content reports are a little tricky. To get to the term report you have to click on "Other" and then search for "keyword" as shown here: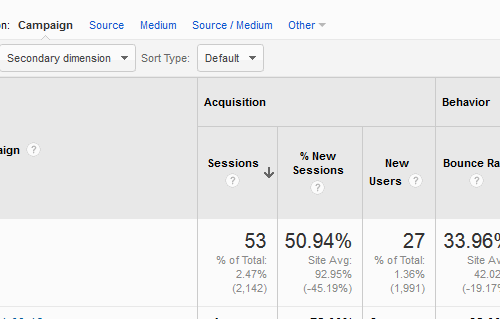 This is what the report looks like:
According to this report, it's the 5am jWAG social shares that attract the most attention. We can see that because we're simply using the utm_term variable in an unconventional way to track the time of day.
The last one to look at is the utm_content report. This is where you'll see the different ads that you ran. To get to it, you have to click on "Other" and search for "content" as shown here: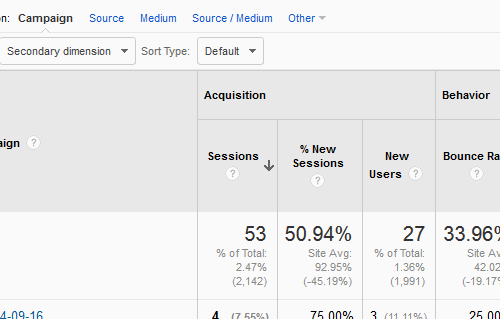 My report doesn't show much since we're only sharing the "daily_nugget" content every day. Take a look at this: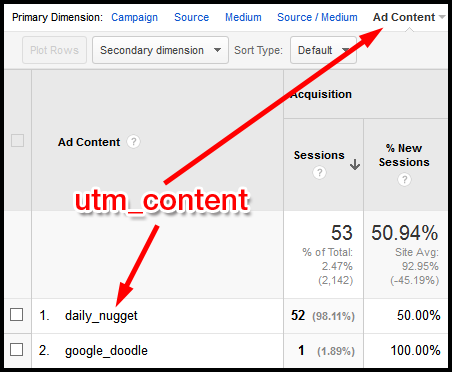 Depending on how you set up your tracking your report will have things like diamond_ring_ad, necklace_ad, and pendant_ad.
The interesting thing about this report is that you might have previous ads appear even though they are long since over. This happens when someone finds old links online or flips through an old newspaper they have lying around their house. Notice the "google_doodle" shown in that above report. That's from a Pinterest share way back in November 8, 2013. As of tomorrow, that was actually 11 month ago!
As you can see, the information you can get from this type of tracking can get pretty deep. Your marketing person should spend some time seriously considering how this will be tracked through the holiday season so you can produce some intelligent business reports in January.
Getting started with UTM variable tracking isn't easy, but once you get use to it, and start to see the benefits, you won't want to do any marketing without it.
In any given month the jWAG UTM tracking reveals that users are finding and clicking on links that were shared from years ago, all the way through to today.
Here's the list of previous Daily Nuggets that are part of this holiday 2014 marketing and analysis plan:
1.
Selecting the best items for your holiday campaigns.
.
2.
Plan your offline and email marketing
.
3.
Online marketing strategies
.
4.
Using domain names for offline tracking
.
5.
Tracking shared links and domains with UTM variables
.
6.
Reading Google Analytics Landing Page Reports
7.
Reading Google Webmaster Tools Top Pages Report
8.
Reading Google Analytics Exit Page Reports
9.
Scrollmap reporting of your holiday pages