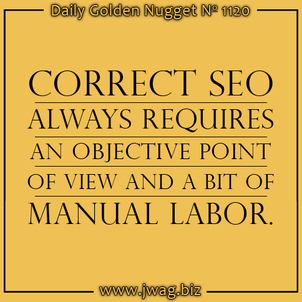 This is the Friday website review edition of the Daily Golden Nugget. For this week's review, I'm heading over to South Burlington, VT in search for my retail jeweler review candidate.
I entered the search phrase "jewelers in south burlington vt" into Google and was given this result:

After a quick scan of the SERP, the store After Midnight Jewelers stands out. They have the top business listing, the first organic listing, and their Facebook and Yelp pages also attract my attention.
This is their web address:
http://aftermidnightjewelers.com/
And this is what it looked like when I landed on their home page: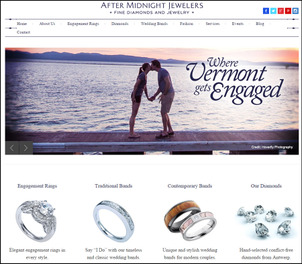 (click to enlarge)
Other than a slight display issue with their top menu, their website was simple and attractive. It's the minimalistic design and the high quality photos that make it attractive. The same design with poor quality photos would probably have less appeal.
After a little investigation, I figured out that the hero photo on their home page was taken at Burlington Bay of Lake Champlain on the border of Vermont and New York. Undoubtedly, this photo was taken at a recognizable location that the local customers would recognize. I wouldn't be surprised if this is a popular engagement spot as well.
Since the design of this website is pretty good, I'll spend this entire review analyzing the SEO of the site.
Navigating over to the About Us page ( http://aftermidnightjewelers.com/about/ ), I found multiple use of the Header 1 tag/the H1 HTML programming tag as shown in this screen grab: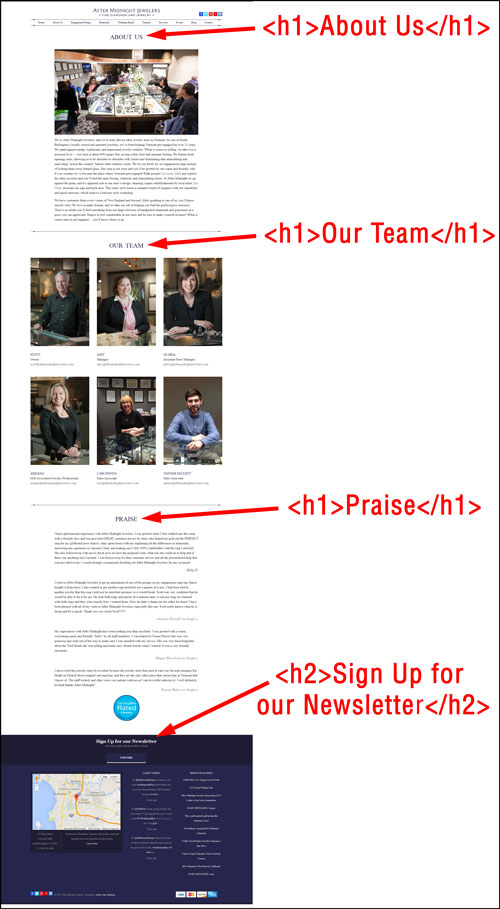 You can reference back to
this previous Nugget
for more details about Header Tag usage, but to explain it briefly, you should only use the H1 tag on any web page one time. You can use the H2 tag a few times, and the H3 tag a few times, but the H1 tag should be reserved for the most important headline.
As a general guideline, any time you feel compelled to have multiple H1 tags, it's a good indication that you probably should be splitting that page into multiple pages instead. The About Us page on After Midnight could be split into an About page, Staff page, and Testimonials page.
Notice that the "Sign Up for our Newsletter" is set as a H2 tag. Since this appears on every page I would have set it as an H3 or maybe even an H4.
Among the SEO community, it's generally agreed upon that the H1 headline of the page should closely match, or exactly match the individual page titles. Here's the page title for After Midnight's About Us page shown as HTML code:

Here it is typed out:
After Midnight Jewelers - Vermont's Engagement Ring & Fine Jewelry StoreAbout Us | After Midnight Jewelers - Vermont's Engagement Ring & Fine Jewelry Store
The first part of that title, this part, "
After Midnight Jewelers - Vermont's Engagement Ring & Fine Jewelry Store
," is the default title for every page of the site. That's an overuse of the same page title, and that's quite the spammy practice now.
The second part of the title, this part, "
About Us
," is the only part of the page title that changes from page to page. However, notice how there's a space missing between the word "Store" from the first part and the word "About" from the second part. That's not a typo in my Nugget; that's some sloppy work by the SEO person who wasn't paying attention to proper setup. It's like that on all the pages.
The third part of the title is similar to the first part, "
After Midnight Jewelers - Vermont's Engagement Ring & Fine Jewelry Store
." Repeating yourself in the page title is simply spammy.
Just to show you the similarity, here's the page title from the Appraisals page:
After Midnight Jewelers - Vermont's Engagement Ring & Fine Jewelry StoreAppraisals | After Midnight Jewelers - Vermont's Engagement Ring & Fine Jewelry Store
Moving on now to the meta descriptions on their website. The meta description isn't used by search engines as a
ranking signal
but rather, it's a good way to
convince someone to click on your web page
. Consider it the sales copy that invites people to click on you.
Even though After Midnight Jewelers is using WordPress and a really good SEO plug-in called Yoast SEO, they chose to omit setting up their meta descriptions. I can understand this since it takes a lot of time to write a good 150 character description of every page on your website. Since they took shortcuts on the page titles, it almost makes sense that they would not bother writing the page descriptions.
In the absence of meta descriptions, Google will attempt to write their own based on the written content they find on your page. Leaving your descriptions up to Google is bad advertising practice because they will never get it right. This is akin to paying for a billboard and only supplying a photograph to the billboard company and asking them to surprise you with a random headline without your approval.
With these 3 simple SEO issues I've identified, there's a good chance that one of the many other jewelers in South Burlington, VT could outrank After Midnight. The bottom line is that you shouldn't rely on nice looking websites or automated SEO practices. Correct SEO always requires an objective point of view and a bit of manual labor.
FTC Notice: I randomly choose this website and won't be telling the retailer jeweler that I'm doing a review. Unless someone else tells them, they will only find out about this review if they examine their Google Analytics and Google Webmaster Tools. I'm not doing this to solicit business from them, but rather as an educational exercise for everyone. This review is completely impartial and all my comments are listed in the order that I discovered them.