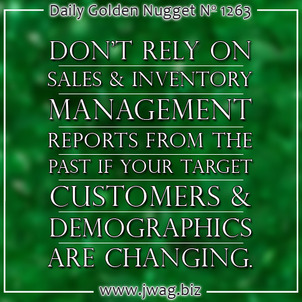 Shortly before leaving for the JCK show in Las Vegas this year, I was reading through The Retail Jeweler magazine and reviewing the monthly column I submitted. Magazines editorial deadlines are always more than a month, sometimes two months, ahead of the publication date and I needed to refresh my memory of what I had written.
While flipping through the magazine, I found an ad for The EDGE software. The ad touted that they were voted #1 for point of sale and inventory management by INSTORE Magazine readers.
The ad was also touting the reporting features that are built into The EDGE, specifically how you can combine purchasing, inventory, and sales data to improve cash flow.
The headline of the ad read:
"It's easy to get stirred up about stale inventory. No one wants to spend money on product that doesn't sell"
Although I do like The EDGE software, and they are a collaborative business partner, the headline of this ad "stirred" me up differently than they were expecting. It made me pretty angry actually because it reflects the sad state of inventory affairs that plague the jewelry industry.
Earlier this month, my piece about
jewelry designers and retail jewelers
struck a chord with many of my readers; in that, if inventory is not turning in your store, then maybe it's time to try new inventory. Give new designers a chance and create a marketing strategy around them.
If you're a retail jeweler that complains about inventory not turning, then I have some advice for you: Reexamine your marketing, maybe your ads are bad.
If you're a retail jeweler that complains about inventory not turning, then I have some advice for you: Reexamine who your customers are, maybe you are targeting the wrong people.
If you're a retail jewelers that complains about inventory not turning, then I have some advice for you: Reexamine the demographics of your local towns. Demographics change during every demographic transition, and we're going through one of those right now.
If you're a retail jeweler that complains about inventory not turning, then I have some advice for you: You should ask someone else to help you select the inventory you stock in your store; perhaps your point of view or taste is not in line with my first three points of advice above.
Instead of using software to monitor the age of your inventory and have it tell you what to reorder, and when, it's better to have inventory that flies out of the showcases because your customers love it. I assume you'd reorder merchandise that your customers want, right?
Again, The EDGE software provides a solution for the traditional method of retail jeweler inventory selection and marketing. But great software is not a solution to poor marketing.
So what is a retail jeweler to do?
Well, today is May 27, 2015. Tomorrow, the JCK Show, LUXURY Show, and COUTURE Show will open in Las Vegas. When visiting these shows, or any future show for that matter, take time to talk to your jewelry suppliers and review the marketing support program they provide.
Coming up with your own ad creatives is difficult. You probably don't have the budget for a marketing agency that can do it for you; but you won't need one if you only buy inventory from designers who also provide the marketing materials for you.
I'm not talking about bland marketing materials like Pandora or Chamilia; their ads are so standardized and plain looking now that it's easy for the public to ignore them. While Pandora is striving to maintain brand uniformity with all their ads, their brand name is overshadowing the retail jewelers who sell them.
Visit the booths for all the current line you carry in your store. Find out if they have marketing material that you can use. Look for colorful, interesting, and eye catching ads rather than product photos shot on white backgrounds. You also need to judge if those ads will appeal to your local demographic. You know your local demographic, right?
Stay away from jewelry designers who will want to control how you use the ads you give them. Pandora is the prime example of this control.
Also stay away from jewelry suppliers that will limit how you can use their name and photos of their inventory in ads you want to create yourself. For example, some jewelry designers are against same-sex marriage and will not allow you to use their logo or product in a same-sex marriage ad.
For more information on
evaluating a designer before you buy their line
read
this Nugget
. Here's an important excerpt from it"
Browse the trade show and find a line you like.

Before asking about their "best sellers" or "hot items," ask them if they have a press kit for you to look at.

If they don't have a press kit, and if you have a very small "open to buy" then you should seriously consider moving on to the next vendor.

Look through any press kit that they do have before selecting items. In the press kit you should look for photos of their products, finished ads, write-ups in magazines, designer bios, stories about the making of the jewelry, and stories of the inspiration behind the jewelry. You don't need all of these items, but the bios and the stories are most important for online marketing.

Assuming they have a good press kit, you need to ask the designer if they would be willing to help you with your marketing, specifically asking if they would be willing to do an online video interview or a telephone interview. You also need to find out the type of other marketing support they have.

Their willingness to help you sell their product will make the difference between turning their line a few times a year, or having it sit there for 2300 days.
In Conclusion
I suppose the bottom line is that you shouldn't choose your retail store inventory solely by assuming you know what will sell and what won't. There's a generational transition taking place right now that has completely turned all marketing upside down while also forcing a change in the styles the new generation wants.
Existing stores can't continue to do business as usual. Those of you just entering into the jewelry industry are not impeded by memories of what used to work in the good ol' days.
Don't rely on your inventory management software to tell you what to buy. That software analysis relies on historical sale data, from the Great Recession and from the buying habits of Baby Boomers and Generation X.
Generation Y (those Millennials) are here now, and they certainly don't want to be compared to their parents and grandparents.