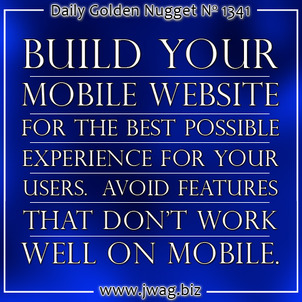 Last week I explained what I've been seeing with regard to
mobile trends and your business future
. Because of those trends, I strongly urge all businesses to start migrating their approach of reaching customers using the internet from a desktop computer point of view to a smartphone point of view. Doing so will be a complete shift in how you think, and what your new online image should look like.
I've always believed that your mobile site and your desktop site should be specifically designed for each purpose and use a
responsive content
strategy rather than a responsive design that resizes depending on the browser window.
Although mobile websites have been around for more than 10 years (I built my first one in 2001), they didn't have widespread presence until about 2010. The mobile website was typically an afterthought once the desktop version of the site was created.
Since 2010, the popularity of responsive website design allowed websites to be built with the assumption that the mobile version would work perfectly. Too many website designers spent a lot of time fine tuning the desktop version of their responsive design, but very little time testing the mobile version of their sites. This resulted is many poorly conceived websites.
With all the chatter of user shifts from desktop to mobile, I'm now seeing just the opposite. Website designers are starting to spend a lot of time testing the mobile versions of their sites, but little time thinking about the desktop version. This approach also results in poorly conceived websites.
Both website versions have to work together, but don't make the mistake of over planning for mobile to the detriment of the desktop usability. Many companies are already falling into that trap. Websites designed for the mobile point of view first now appear too wide on the desktop. They have a lot of negative space and the just seem badly formatted.
We certainly have a paradigm shift happening right now between the desktop to mobile approach. You're likely to make a few mistakes while navigating your way through this shift, but I've come up with some initial pitfalls to watch out for in this new journey.
Linking To Other Websites
Linking one website to another is what makes the internet work. Indeed, before there were search engines the only way you would find something online was by following links from one website to another. Google measures all the links we share between websites and uses them to help rank the sites in search results.
I rarely come across a jewelry website that doesn't link to one of their vendors or designers. Most of the time those links are provided instead of including full product details on the website. It's much easier to link to the vendor's online catalog than for the retail jeweler to recreate the catalog on their own website.
In addition to links to vendor websites, there are plenty of other reasons to link to other websites, like the local chamber of commerce, or local charities that you've supported.
In order to preserve the correct customer experience, from now on you need to be more careful when linking from your website to someone else's. A link on your mobile website should go to the mobile version of the target website. Likewise a link from the desktop version of your website should go to the desktop version of the target website.
It's horrible usability for you to link from your mobile website to someone else's desktop site. I view this as a complete lack of care for your customers.
Implementing this type of usability experience can only happen if you have responsive content.
Embedded Widgets
A lot of sites now allow you to share content through some type of embedding. You can embed a YouTube video on your site, a Google Review, and Facebook posts. Many of the share buttons you see on websites now allow for some type of embedding of code within another site.
Embedding can take on several formats. Simple embedding would use an HTML IFRAME to display someone else's web page within the body of one of your web pages. The more efficient type of embedding provides parameters for the size of the embedded window.
Many of the embedded services I've seen on jewelry websites are not mobile friendly. These embedded features look and function horribly on responsive websites because they break the mobile design. If you have a choice to change the size of embedded services, you should make sure to use the correct service for the mobile user. On the other hand I've seen embedded services designed for mobile that look horrific on desktop computers because they are too small and become frustrating to use. Once again, this would require a responsive content functionality.
Widgets used for diamond searches and vendor inventory are two examples I commonly see. I've only found one jewelry vendor with a responsive widget that reformats itself when viewed on a desktop and mobile device. I really wish all the diamond vendors would figure out how to get this right, because all the loose diamond search widgets I've worked with cause a mobile site to break.
Mobile Sites Of the Past and Future
I'd like you to think about why a mobile user would be contacting you. A few years ago, I was teaching everyone to think about the mobile user who might be doing a Google search while driving, or out shopping. This type of user situation was thought to be triggered by immediate needs and getting people to your store, rather than by someone who is willing to spend an in-depth amount of time browsing through your website.
The idea of immediate needs always lead us to create mobile websites that were designed to provide quick information to contact you, but now there's a shift. The contact information still needs to be up front, but the rest of the website navigation needs to be fine tuned to allow mobile users to use the website enjoyably.
I used to think that people might not want to read your About Us page and long blogs through their smartphones, but I find myself doing that all the time when I'm on the tech blog and education sites I use. I also realize I'm doing it because the sites I use have made it convenient and easy.
Your mobile website can't be a scaled down version of your desktop site, it must include everything in a convenient and easy to use manner. I feel that your customers will appreciate your efforts and be willing to spend a lot more time on your site when using their smartphones.
Conclusions
I'm sure there will be other design considerations we have to deal with as smartphone usage continues to grow. The three points I made here today are the obvious issues I've already found on many sites, not just within the jewelry industry, but all industries.
Keep in mind that you have to focus on the experience of your own customers. If something doesn't work in a mobile format you're probably better to leave it off your mobile site until a better solution is available. My hope, however, is that you'll do whatever it takes to build those solutions yourself when they are not available.