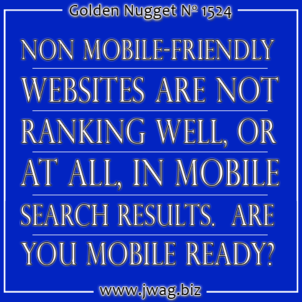 My website reviews every week usually start with the random selection of a town, but this week, I didn't find any jewelers when I selected Jurupa Valley, California. If there are jewelers in Jurupa Valley, then they probably don't have a website or a large enough digital footprint for Google to find them.
With the lack of any real local results, Google returned store listings from surrounding towns and a bunch of directory sites, like Yelp. Here's what Google gave me:

This desktop SERP shows Gemma Jewelers in the local 3-pack and in 6th place of the organic results. I also notice Mardon Jewelers in 5th organic place as well as a paid ad at the bottom. Those are the only jewelry sites listed in the page 1 SERPs.
I also tested this search on my smartphone. The results were a little different, most notably the entry for Mardon Jewelers is missing as you can see here:

I'll now dive into why I believe the Mardon Jewelers is more highly ranked on the desktop SERP but doesn't appear at all in the mobile SERP.
Google Changed Mobile Results
Google first started using mobile-friendliness as ranking factor in April 2015. For a while, they were including mobile-friendly and non-friendly websites in the mobile SERPS together. To make it easy for users, they were tagging mobile sites as "mobile-friendly."
By April 2016, Google had removed the "mobile-friendly" tag and removed many of the non mobile-friendly sites from mobile results.
From what I can tell, the reason Mardon Jewelers doesn't appear in the mobile results is because their website is not mobile-friendly at all.
Mardon Jewelers First Impressions
This is what the Mardon Jewelers home page (
http://mardonjewelers.com/
) looked like when I visited: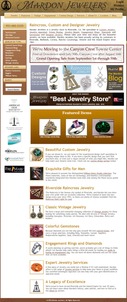 (click to enlarge)
I was surprised by the amount of written content on the home page. The opening paragraph explains who they are and what they do. Then at the bottom of the page, they have brief explanations of each of the products sold and services provided. They've also put a lot of effort into optimizing the written text so search engines know exactly what they do.
One thing I didn't like on the home page was the out of date moving banner. I admit that the banner is only 2 weeks out of date, and it might not seem like a big deal yet, but it is. Any outdated information on your website might make people think that your entire website is out of date.
Mardon Jewelers Content
Digging into the Mardon website I was happily surprised to find a lot of written content. They've maintained a well written blog since September 2008. Since then, they've posted at least twice every month. It looks like they did skip a few months of posting here and there, perhaps 15 months in total over the last 8 years. That's a fantastic record of consistency!
Every page on their website is well written and dedicated to a single topic. It looks like they took the time to learn about writing content for their website, they even wrote single page descriptions for each of their services.
Although I liked the written content on every page, I didn't quite like the page titles they are using. They need more work to hone the titles like they did the single topics for every page.
I'll also give them accolades for writing descriptions for their products. Every product I looked at had at least a 1 sentence description.
Mardon Jewelers Lacks Mobile
I believe the reason Mardon Jewelers doesn't appear in the mobile search results is because the site is not mobile friendly at all. Considering how much time they are spending to build content, in what seems to be the correct way, I'm surprised they haven't upgraded their website for mobile.
On the other hand, because they have so much content it might be difficult for them to do a correct upgrade without losing their ranking. According to web.archive.org, this version of the site was launched in late 2008 and the design hasn't changed since.
I assume they were once ranked in first place for every keyword they targeted, but that ranking has slipped far away from them now. They need to redesign their site with a mobile theme, transfer the content, maintain their current URL structure, and revisit the basic SEO methods for page titles and headings on pages.
For a site this size, that conversion will take months. I suspect that they will appear in mobile results again after that.
You can't ignore mobile-friendliness now because it's likely that 50% or more of your customers are using mobile search. Those not found in mobile might as well be out of business already.
Gemma's Jewelers First Impressions
My first impression of the Gemma's Jewelers site (
http://www.gemmasjewelers.com/
) wasn't a good one. This is what I saw: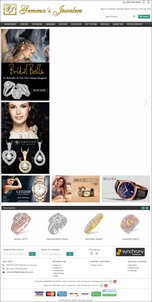 (click to enlarge)
This website is mobile responsive, but the mobile detection feature is not working correctly. The large white area you see in that screen grab happened because the widget for the hero images thought my web browser was a mobile browser while the rest of the page correctly detected my computer as a desktop.
It took several page refreshes before I was able to see this website correctly as shown here: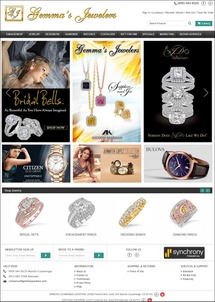 (click to enlarge)
As I dug into the Gemma's Jewelers website, I realized it was another boiler plate site from Ashi Avalon. As long as you carry the Ashi Diamonds product line you can apply to have an easy-to-manage Ashi Avalon website. Ashi maintains the site and the inventory.
Although this might sound like an attractive and easy solution for jewelers, there are a lot of these Ashi sites online, which also means a lot of duplicate content. Generally speaking, Google doesn't like websites with duplicate content, which in turn affect ranking.
Conclusions
I couldn't find any original content on the Gemma's Jewelers website, while the Mardon Jewelers had original content on every page. This is why I believe the Mardon Jewelers website was ranked higher in the desktop results than the Gemma's Jewelers site.
Despite the quality content, it wasn't enough to place Mardon Jewelers in the mobile ranking results. It seems like mobile-friendliness is a huge ranking factor now.
Meanwhile, I believe the Gemma's website appeared in mobile results only because it was one of the only retail jewelers in the area with a qualifying website.
The last thing I'll mention today is my own current measurement of mobile usage across jewelry websites. As of this writing, I'm directly measuring 42.85% mobile usage and 9.88% tablet usage. Desktop users are now down to 47.27%.
These are real numbers that you can't ignore. During the 2016 holiday season, these might jump up to 60% total mobile usage.
That's it for now; I'll see you next time...
FTC Notice: I randomly choose this website and won't be telling the retailer jeweler that I'm giving them these flop fix ideas. Unless someone else tells them, they will only find out about this Nugget if they use Google Alerts or examine their Google Analytics and Google Search Console. I'm not doing this to solicit business from them, but rather as an educational exercise for everyone. This #FridayFlopFix is completely impartial and all my comments are based on previous experience in my website design and marketing agency, and from my personal research data.