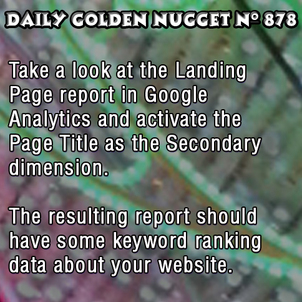 It's been three months since Google obfuscated keyword information from analytics tracking. The world hasn't ended, and the internet is still functioning just fine.
Perhaps this is exactly what Google expected (the world not ending). Still, so many internet marketing professionals complained when it happened and many non tech-savvy website owners were completely confused why they couldn't see their keyword ranking any more.
Even though Google is hiding your precious keyword information, if you have been following my directions and setting up your website with a
single
topic
per
website
page
then you should still be able to get some keyword ideas within Google Analytics.
When setting up the search engine optimization on your website, you should always have a Page Title that matches the single topic of each page. Simple 2 or 3 word Page Titles are best, and you don't need to include your business name.
Once you have it all set up like this, you can take advantage of this report in Google Analytics.
Follow these steps and you should find some keywords:

1. On the left navigation click on Behavior -> Site Content -> Landing Pages
This will show you a report of all the pages people first see when they come to your website. Although you home page is probably the most popular, it's not going to be the only page in the list.
2. Look at the top of the report where it says "Primary Dimension: Landing Page"
3. Click the "Secondary dimension" button below the primary dimension.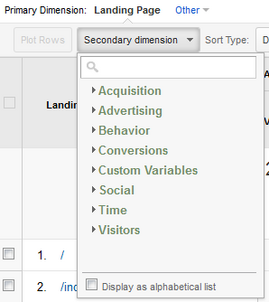 4. Then click in the little white box with the magnifying glass and type the words "page title."
5. Initially there will be a lot of options below that white box with the magnifying glass, but those options will quickly shrink as you type. Eventually you should only see the green option for "Page Title." Click that.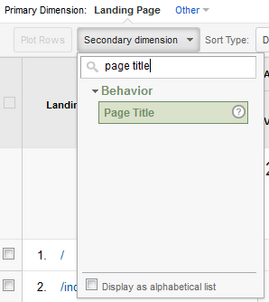 The report you see on your screen will show the page URL and the Page Title for that page.
Since Page Titles are often times the most important aspect of your search engine optimization, Google often matches your website pages directly to the words people search for. Assuming your page titles are limited to 2 or 3 words per page you can use this list as a way to if your website is ranking for a particular keyword.
Even though this method has a lot of imperfections, it's still a reasonable report to use in your SEO analysis process.