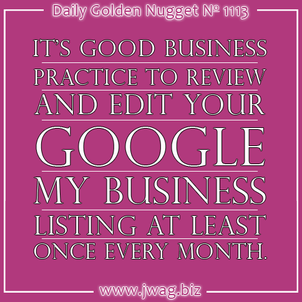 This is part 2 of a multi-part Daily Golden Nugget series explaining how to edit your Google My Business listing. Please refer to
this previous Nugget
to see how to access your business information within Google's system.
Once you get into your account, you need to review and update any information that they have on file. It's important to log into your account and verify your information every once in a while. It might seem silly; after all, if you claim your business listing and verify it, you might think that it's only you that has the ability to edit it. Nope; the frustrating truth is that your business information could be changed by outside sources without you ever knowing--unless you check it periodically.
After years of experience, Google has apparently learned that some business owners will set up their accounts and never touch them again. Many accounts were left to flounder after businesses moved or store phone numbers were changed. Google is in the business of providing accurate data and answers, so they figured out how to gather your business information from multiple sources and update it without your permission.
If Google has updated your account automatically, you will see an orange box at the top of your business account that says "Please review and submit your information." This is what it looks like:

Clicking the review button will bring you to the edit screen. But before we get to the edit screen, I want you to look at this larger screen grab of the My Business main page: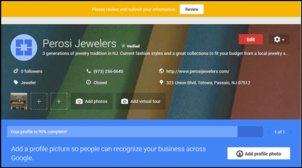 (click to view larger)
That screen gives an abbreviated look at all your primary information. With a quick glance, you're able to tell what needs updating. Here's a breakdown of exactly what it shows...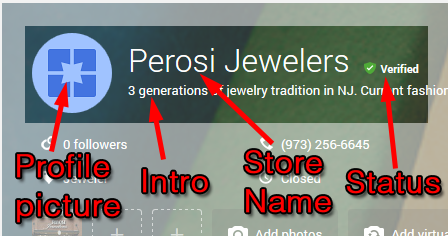 That round, blue logo you see in the above screen grab is the default icon used as your profile picture. Once set, your profile picture becomes the primary image used throughout all of Google's properties. The most obvious place that you see it is next to your business name in Google+, but it also appears in YouTube, Google Reviews, and every other Google service that you log in to.
For branding purposes, it's best to use your store name or logo as your profile picture.
Your store name needs to be the store name that your customers would see in the real world. You should not be including keywords or product names in your business name field.
The introduction can be any length, but keep in mind that most of the time it will get truncated after 200 characters with the most important information clearly visible on this screen.
The above screen shot shows that this test store is "verified," which means that the store location and ownership was verified through the mailing of a post card PIN, or through an automated telephone call. The savvy internet user will notice this verified status and assume that the information displayed in the account is 100% accurate at all times.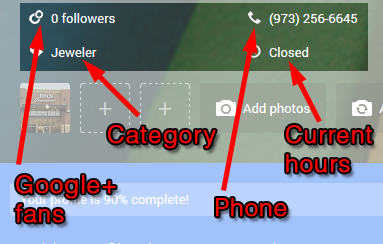 This second screen grab shows the number of customers who are followers of your store's Google+ business page, the business category for your listing, the phone number, and the current hours. The hours will always show the current day's hours and whether or not your store is open when you're looking at this page.
The phone number can never be changed by anyone other than someone who has your permission to edit this information, but I've seen the store hours and the business category change through automated updates. The category can be overridden if the general public suggests an edit to your business or by 3rd party business listing services like Localeze and Yext. I don't recommend any 3rd party business listing management service like those because they have their own bulk edit and upload features that don't exactly mesh with the categories that Google uses.
The general public also has the ability to suggest edits to your store hours so keep a watchful eye on those too. In fact, during the holiday season you should be editing your store hours weekly to account for fluctuating holiday schedule.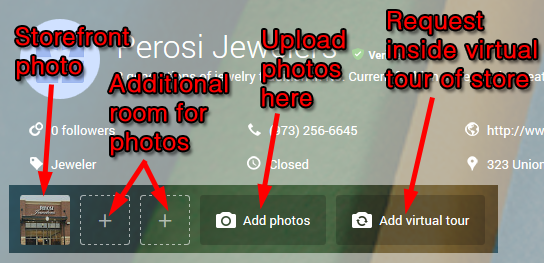 The screen grab above shows the possibilities you have for store photographs. The first photo you add to your My Business account should be your storefront, but don't stop there because Google designed their system to promote 3 photographs. Notice the dotted line empty boxes above where 2 additional photos would appear. You can fill those in by clicking the "Add Photos" button that's also shown.
The last button is much different than the rest; it says "Add virtual tour." This is a promotional button that leads you to the signup process for having the inside of your store photographed. They call it Google Business View and you can
read more about it here
. I'm planning a future nugget and article for the Retail Jeweler Magazine which will detail the Business View virtual tours in-depth, so keep on the lookout for that. For now, just know that you need to hire a specially trained photographer to create the virtual tour for you.
Time to dig in a little deeper to actually edit all these settings by clicking the red Edit button shown here: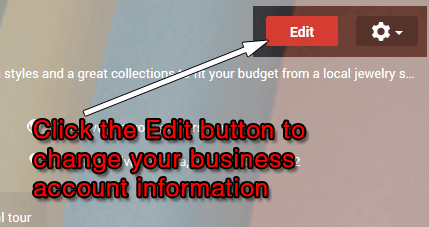 Which will reveal this edit screen: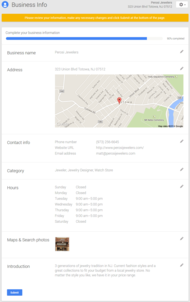 (click to enlarge)
There are 7 editable sections that you can change by clicking the pencil icon on the right side. Clicking one of those pencils will open a pop-up window like this one to edit the business name: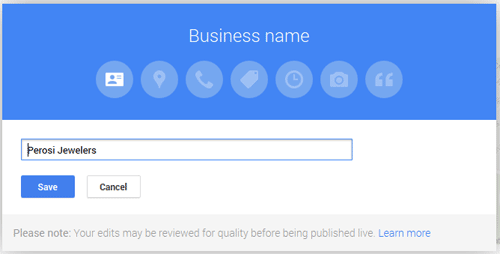 Changing the business name, the address, or the phone number will result in a request to reverify ownership of the account. I'm specifically mentioning this because it was common practice in the past for an SEO agency to change a business name to include SEO related keywords. Reverifying isn't a big deal, but it also means that your changes will not appear on Google until the verification process has completed.
You need to pay particular attention to the category edit screen that you see when clicking the pencil icon for that area. Here's a screen shot of it: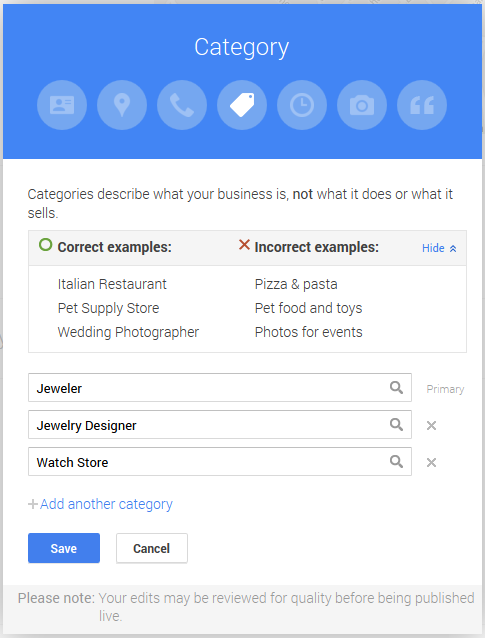 The category you choose for your business needs to directly reflect what your business is, rather than the service you provide or the products you sell. My example above shows the three categories of Jeweler, Jewelry Designer, and Watch Store. Google has several built in jewelry related categories that you can select. Please resist the temptation to type in your own categories because Google usually doesn't know how to correctly associate random categories into their system.
Notice how the first category is tagged as the "Primary." This is a new feature since I last wrote about this topic. Make sure you choose your most important category first. Google previously would randomly choose your primary category from all those you entered; a frustration that's been happily corrected now.
Click the blue Submit button at the bottom of the screen once you've reviewed and edited all your information. All your edits are supposed to pass through Google's quality control before being published to your live account. That QC process might only take a few seconds for something like your store hours, but it will take a little longer for other things.