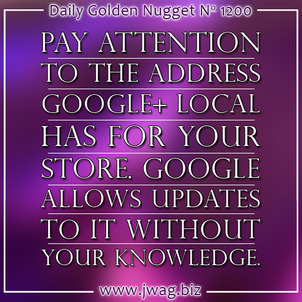 If you're jewelry store is located in a strip mall or a shopping mall, Google will probably be changing your address, if they haven't already.
In honor of my 1200th Daily Golden Nugget I'm bringing you some updated information about Google+ Local today. Way back 1200 post ago I began these Nuggets with a a post about Google Maps, since then I've carried the tradition or reviewing Google business related changes every 100th Nugget. So here we are again.
During the course of my usual Friday website reviews I started to notice a change in how Google was displaying store addresses in the Google Local Pack.
The "Local Pack" is the cluster of 7 store names and addresses that you see in search results whenever you are searching for local businesses. In the past, Google would only show your street address, town, state, and zip code, but recently they started including the shopping mall information.
Here's an example: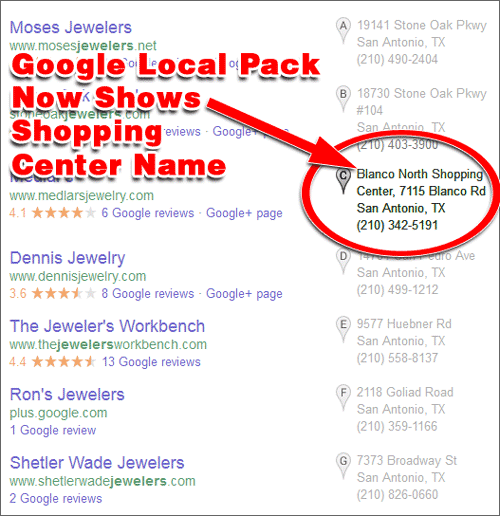 As you can see, the address in the above screen shot says:
Blanco North Shopping
Center, 7115 Blanco Rd
San Antonio, TX
The formatting is different than how the US Post Office would like you to write it out, but it looks like they are doing that just to conserve screen real estate. Previously the above address would have appeared like this:
7115 Blanco Rd
San Antonio, TX
The difference, of course, is that you wouldn't be able to locate the jeweler without knowing they were inside the shopping center. You would have to know that the shopping center's address was 7115 Blanco Road.
Google is automatically adding this extra address information into the listings without any feedback from the stores.
Take a look at this next example: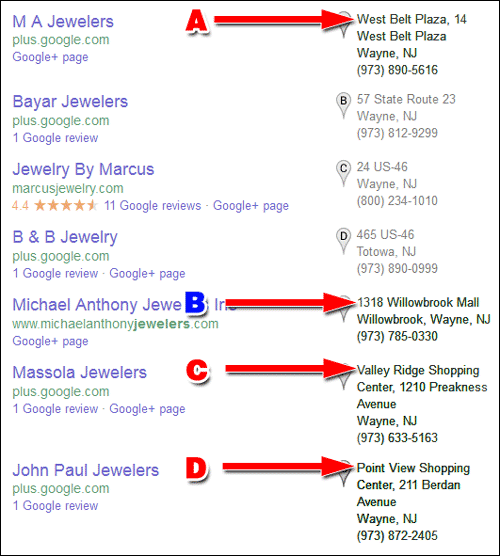 There are 4 jewelers in that screen shot with shopping center addresses. The addresses indicated by "A," "C," and "D" are correct, but the "B" address is incorrect.
The "B" address reads:
1318 Willowbrook Mall
Willowbrook, Wayne, NJ
According to the formatting I see for other stores, the correct formatting should be:
Willowbrook Mall, 1318
Willowbrook Mall, Wayne, NJ
This is a case where Google's automated address update was incorrect.
You should log into your
Google My Business account
and double check your address. I find it quite frustrating that Google is updating this information without permission, and that their automated system might send customers to the wrong place.
There's a larger situation here that will start to affect all shopping mall stores, and that's your
NAP information
found throughout the internet.
"NAP" stands for "Name, Address, Phone Number," and it plays an important role in your search engine optimization for local businesses. Search engines, not just Google, will read through many different online business directories to gather data about local businesses. The search engines assume the information in the directories is accurate, and they use it to help with your organic ranking.
If you search Google for NAP you'll find a lot of information about how to accurately conform your address information and why it's important. Simply put, the way you have your address on your website needs to match how it appears in Google Maps, Google+, YellowPages, Citysearch, The Knot, and any other online business directory that have your information.
However, now we have a new wrench that Google's created. Google's business directory is considered to be one of the most accurate, and it's even more accurate with the automatic addition of the shopping mall information. However, your website and the other online directories now need to be updated to match Google's format.
Here's one example of an address I found on someone's website:
999 E. Basse Road, Suite 181
San Antonio, TX 78209
In The Shops at Lincoln Heights
(Broadway & Basse Road)
The website should be changed to this new format:
The Shops at Lincoln Heights
999 E. Basse Road, Suite 181
San Antonio, TX 78209
(Broadway & Basse Road)
Once the website is changed, you then need to go through and also modify all your online business identities and all the directories like YellowPages, CitySearch, Yelp, etc.
I personally feel it's a positive change. There've been many times when Google Maps lead me to an unexpected shopping mall when I was expecting a freestanding local store. I'm sure this will clear up confusion for many users.
The drawback here is that you do need to take the time to adjust all those online directories.
That concludes this 1200th Daily Golden Nugget. I'll be back again with more updates to Google+ Local in the future.