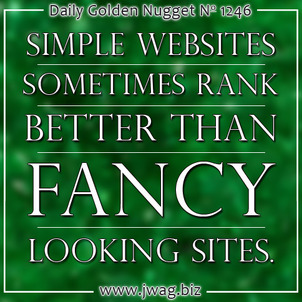 Do you have a question about your own online marketing situation or feel perplexed about something specific on the internet? Send it to me and I'll answer it as a future Daily Golden Nugget if I can.
Shortly after posting my Friday website review on the morning of April 24, 2015, one of my email readers asked me a really viable question about the SERP results from that day's review. You can read the review
here
but I'll recap the important parts today.
Here's the question:
Hello Matthew,
Great Nugget as usual. One thing I don't understand about this website though. As bad as it is with an old design, Flash, and so on, why do you suppose McCary's is getting the top spot in the organic results for a logical keyword choice?
According to MOZ they have a Domain Authority of 21 and a Page Authority of 17. Both pretty bad numbers. Then you have someone like Lee Michaels in the same town, with a MOZ Domain Authority of 35 and a Page Authority of 45 and a 4 letter dot com domain coming up in the 4th spot!
What gives?
The lmfj.com is better than mccarys.com on every single SEO metric I can look at, and yet McCary's is ranking better on this obvious common keyword choice.
How would you explain that?
Thankfully it wasn't Lee Michaels asking this question, because it's not the type of question any SEO professional wants to answer. However, my hope would be that, if an answer could be found, it would really help educate the owner of Lee Michaels and help them improve their online identity.
For that review, I searched for "jewelers Shreveport, Louisiana" and saw these SERP results: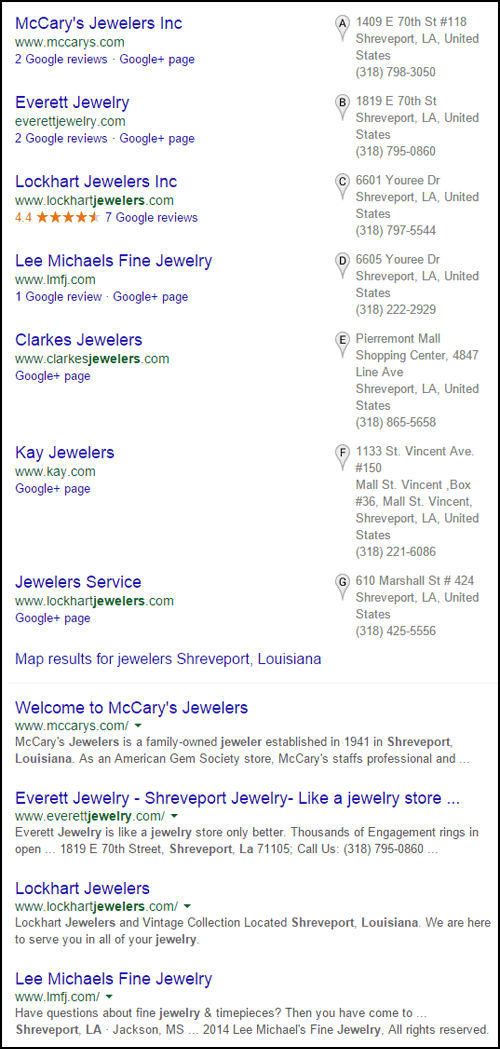 I chose McCary's Jewelers because they were first in the Google Local Pack and first in the organic list. Even though my review was anything but glowing, I didn't question why it was in first place.
MOZ Open Site Explorer test
The question references the MOZ SEO tool called Open Site Explorer that you can find here:
https://moz.com/researchtools/ose
Have some fun and check out your own site, but please don't come crying back to me if your website ratings are the pits.
Here's a screen shot of the Open Site Explorer results referred to in the question: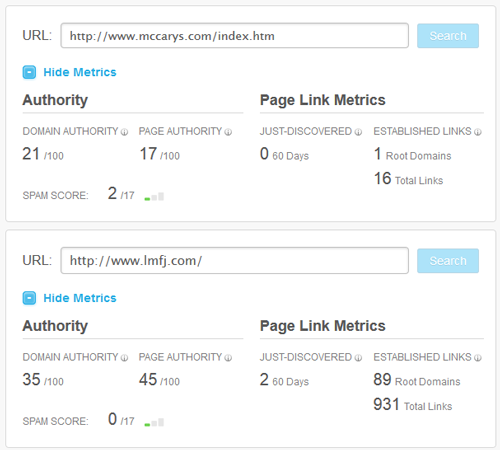 Open Site Explorer looks at all the websites linking to a domain and estimates the potential ranking of a website based on that. MOZ created Open Site Explorer back when linking was the mainstay of Google's algorithm, but many SEO agencies don't even bother selling
link building services any more
for fear that Google will slap a
Penguin Penalty
on the site that will take forever to correct.
HubSpot Marketing Grader test
In addition to the MOZ testing tool I decided to also look at the Marketing Grader from HubSpot found here:
https://marketing.grader.com
Go ahead and test out your site in that one too.
Here's the reported results from HubSpot's reporting tool for the McCary's and Lee Michaels sites: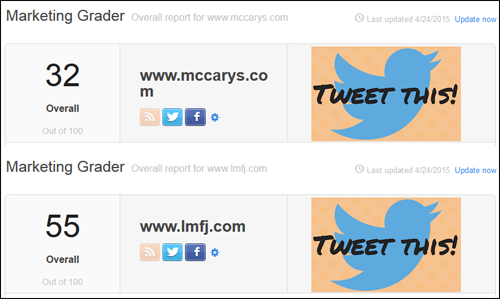 Clearly, both of these tools tell us that Lee Michaels should be slaughtering McCary in the ranking, so really, as the question asks...
What gives?
The sorting of the Google Local Pack is supposed to be organized by highest confidence of the address Google is able to figure out. This is the Name, Address, and Phone Number information that is found throughout the internet. You can read my Nugget about it
here
.
Google cross references all the NAP information it finds to the NAP information you give them through the
Google My Business
interface. What I hate about Google's methods is that they will still cross reference other directory sites to confirm your address even if you manually enter it into Google My Business yourself.
Why do they do that?
I have a feeling it's because some businesses will falsify their address in hopes to affect their ranking. This was once a sneaky SEO technique that worked, but not so much anymore. Additionally, a wrong address in Google Maps will screw up the GPS functionality on smartphones. Google certainly doesn't want people to get mad at them because the address was wrong.
Let's dive into the NAP for both websites...
McCary's NAPs
Mapquest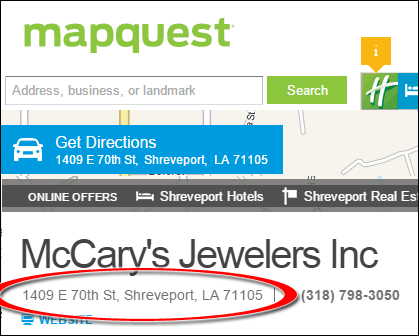 http://www.mapquest.com/us/louisiana/business-shreveport/mccarys-jewelers-inc-270824200
Yellowpages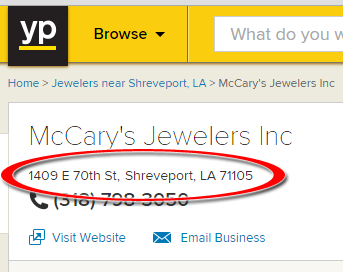 http://www.yellowpages.com/shreveport-la/mip/mccarys-jewelers-inc-12565933
Whitepages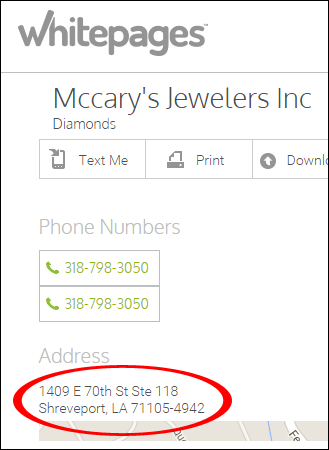 http://www.whitepages.com/business/mccarys-jewelers-inc-shreveport-la
NOLA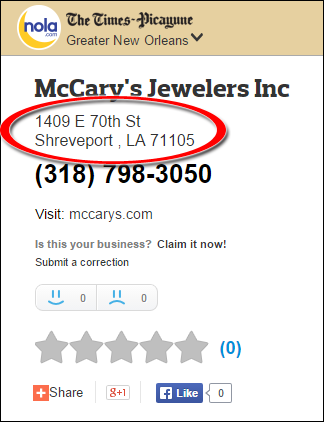 http://businessfinder.nola.com/mccarys-jewelers-inc-shreveport-la.html
Manta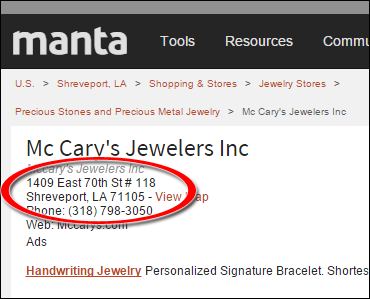 http://www.manta.com/c/mmfr1z3/mc-cary-s-jewelers-inc
Yelp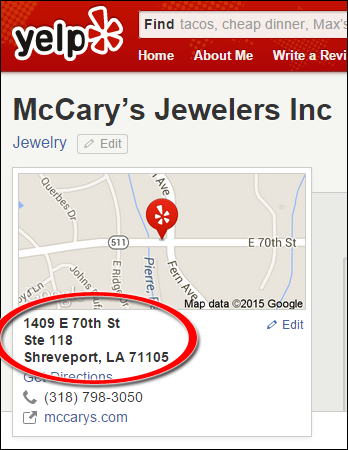 http://www.yelp.com/biz/mccarys-jewelers-inc-shreveport
Yahoo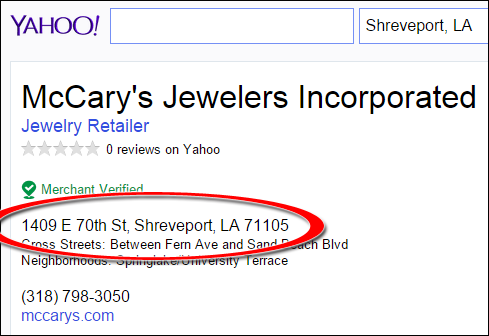 https://local.yahoo.com/info-18278463-mccary-s-jewelers-incorporated-shreveport
The address shown in those 7 directories are close, but not exact to what's in the Local Pack.
Lee Michaels NAPs
Because Lee Michaels has several store locations I have a hard time finding any consistency for them as you can see in these...
Yelp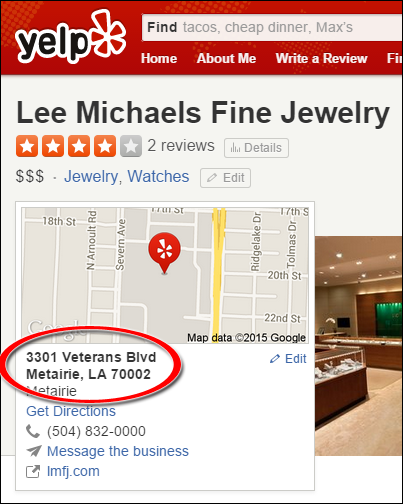 http://www.yelp.com/biz/lee-michaels-fine-jewelry-metairie-2
NOLA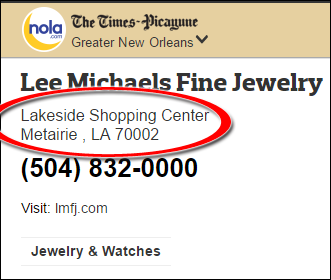 http://businessfinder.nola.com/5277047/Lee-Michaels-Fine-Jewelry-Metairie-LA
Yellowpages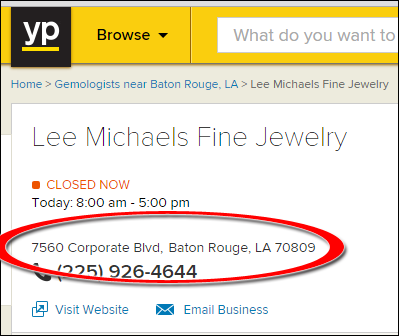 http://www.yellowpages.com/baton-rouge-la/mip/lee-michaels-fine-jewelry-8253289
Superpages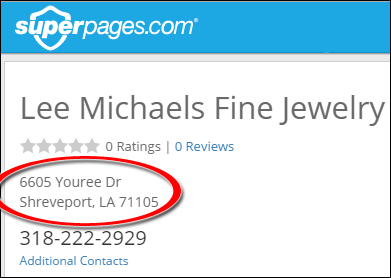 http://www.superpages.com/bp/Shreveport-LA/Lee-Michaels-Fine-Jewelry-LLC-L0014703837.htm
There's no consistency at all between these few that I found. Because they have so many store locations their name appears in a lot of places, but their addresses are really sloppy.
On Page SEO Considerations
As I explained in the original website review, McCary's didn't have their address in the footer of all the pages. Certainly if the address was in the footer then I would point to that as the reason for their higher Local Pack listing. But they don't, so I can't.
McCary has a readable address on only 1 page:
http://www.mccarys.com/contact.htm
Here's a screen grab of it: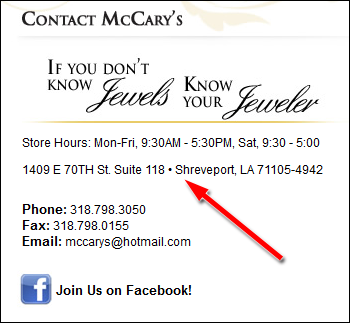 It's interesting though that, because Lee Michaels has 8 different store locations, their addresses are also only shown on one page:
http://www.lmfj.com/contact.php
However, they have 8 different addresses embedded into the javascript on that page. You have to click the town links and activate a javascript:void(0) feature to see all the towns. Here's a screen grab of it: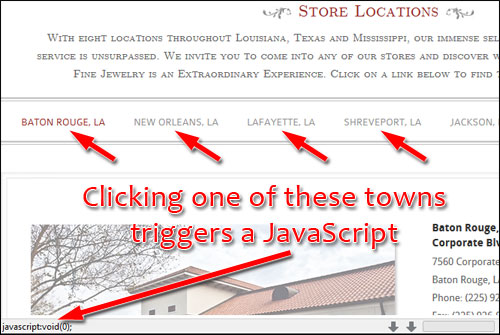 This supports my previous experiences that Google doesn't often dig too deeply past those JavaScript Voids. Google is supposed to process JavaScripts, but information hidden by Voids often gets lost.
K.I.S.S.
Over the years I've found several really low budget websites that had a single image, correct basic SEO, and only a few lines of text that completely outrank really nice sites like Lee Michaels. Seeing things like that, and this McCary site, always reminds me that the Google spider is essentially a text reader.
Here's how the McCary's Contact page looks through a text browser: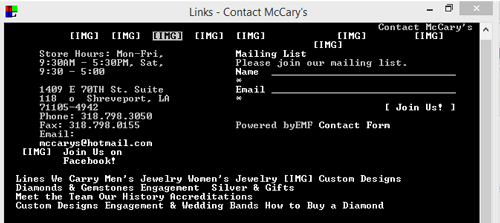 Here's how the Lee Michaels Contact page looks through a text browser: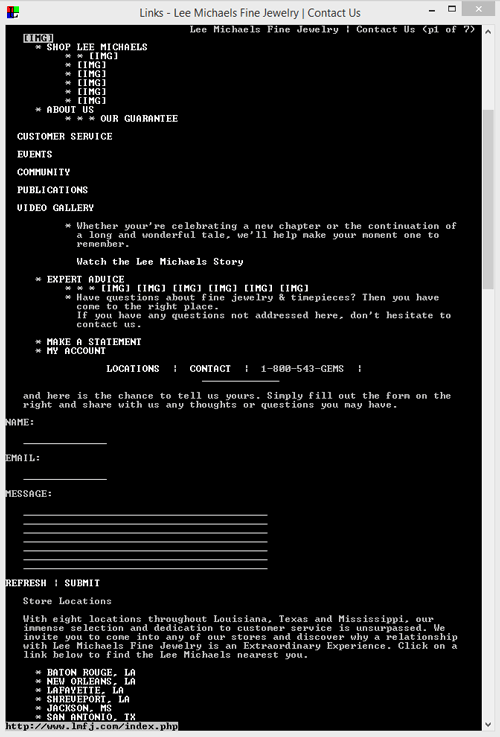 Without the JavaScript, the Lee Michaels website falls apart because the navigation and the addresses can't be seen or followed.
As I think back over all the websites I have reviewed, very few of the fancy looking ones are top ranked. My definition of fancy includes a lot of JavaScripts for movement, menus, and animations. I also notice that many of the fancy websites have huge amounts of built-in code to support their navigation.
Google is supposed to be able to read the JavaScripts, but no matter how I try it, my HTML/CSS sites always rank far better than those that use JavaScripts.
What I think gives...
Here are the winning factors I see for McCary's higher ranking:


They are a simple site when viewed through a text browser.

Their address data is easier to find, digest, and gain a higher level of confidence in.

The basic SEO settings I found on their site do support each individual page.
Google has taken steps to help the little guy that doesn't have money to compete with bigger competitors. McCary and Lee Michaels might as well be David and Goliath. Google seems to rank more simplified sites first.
This could bring up a whole debate on whether you should just have a simple site and call it a day. If that's all you have the budget for, then do it, but there's so much more to the internet now that a simple website could not be involved with.
Further Thoughts for McCarys
I didn't provide recommendations for McCary in the review, but I'll mention these ideas now:


Be careful with a redesign to make sure it continues to use simple navigation

Include the address on every page

Kill that Flash, but don't re-muck up the home page with scripts

Don't introduce Javascript on the website

Only change the SEO settings if it makes sense for the change in content for those pages

Slight improvement on the URL file names so they fall more in line with the content on those pages, but don't introduce URLs
Further Thoughts About Testing Tools
One of the other things about online measurement tools is that they can't be trusted. Every website measurement tool is based on the criteria used in that tool. Since Google and Bing do not publish their ranking criteria, those used in the measuring tools are only educated guesses.
Personally, I'd rather look at the visitor reports, bounce rates, and search impressions as a continual guideline of whether or not the website is working. Don't get me wrong; every one of those reporting tools is useful for one reason or another.
I used to love the Website Grader reporting tool, but then HubSpot turned it into the Website Grader and I felt it became to promotional for their business. Even the MOZ Open Site Explorer limits the information you can see unless you pay them.
As of this writing, I use Raventools to generate reports for my clients because it's a decent all-in-one reporting tool that pools reports from Google Analytics, Facebook, and Webmaster Tools. It allows me to organize the report how I feel they should look without their analysis. However, I still get phone calls every month from clients who are struggling to understand the reports that don't correlate to the sales they had during that reporting period.
Oh, and according to the MOZ Open Site Explorer they only give my jwag.biz website a Domain Authority of 32 and a Page Authority of 41... I don't think those numbers jive with the traffic and feedback I get from the site daily. Additionally, very credible websites, like MJSA, JA, Centurion, JCK and many others link to my website.
At least the Marketing Grader tool from HubSpot gave jWAG a 58, but even that's quite silly.
Like I said, it's not that I don't trust these reporting tools; I just apply a lot of salt before eating them and then I thing for myself and question their authority.
So that's how I'd explain it.