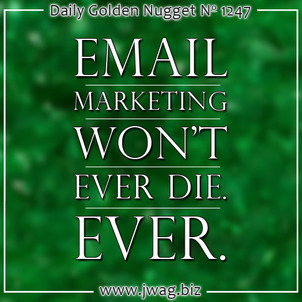 I remember back in the late 1990s when I was helping people set up their first email addresses and told them that email would eventually be more important than their telephone number. Since then, the internet evolved in ways we never imagined and, although email didn't cause telephone obsolescence, some say that both methods of communication are going away.
According to
this report
from Pew Research, the most popular use for smartphones in 2015 is text messaging and internet use. Voice calls rank in 3rd place with emails in 4th. Although telephone numbers are not obsolete, we use them now more for text messages than actual calls. Sometimes if you get a phone call instead of a text message, you assume it must be some sort of emergency, or pocket-dial.
While I was researching my email marketing seminar for the 2012 JCK Las Vegas show, I read a few predictions that email usage would be replaced by social media. Even The Wall Street Journal reported that
email was dead
. I wondered if those predictions would be true and if my email seminar would even be viable for more than a few months.
Just like a telephone number, it doesn't seem like emails are ever going away.
Indeed, according to
The Radicati Group
people are moving away from sending emails to friends and family in favor of direct text messages or via social networks. However, email usage in all forms of business remains strong.
Although your customers might not be using email for their personal communication, we all still need an email address to survive online. No matter how many new social networks there are, everything is tied into an email, particularly for identity verification and even social network signup. Additionally, even those people who are too busy to log into a social network for a day will still read their emails.
Email accounts remain the only stable thing that everyone has.
Some people have stopped watching televisions in their homes... but they still have email.
Some people change out their phones every year... but they still have the same email.
They may delete an app on their phone... but they never delete their email.
The point here is that email is never going away and neither is email marketing.
With a well designed email marketing campaign you can target specific groups of people with only the email ads they would want to see, but email marketing won't even be an option for you if you don't collect email addresses from your customers.
I'm hoping this simple Nugget will help to shake up some negative thinking about email marketing. It's not going away. Ever.
Here are some previous Daily Golden Nuggets you can refer back to for more email information and ideas:
*
Using a paid email newsletter service
*
Landing page planning
*
More landing page planning
*
Email marketing ideas
*
Email marketing segmentation
*
Email marketing and offline campaigns