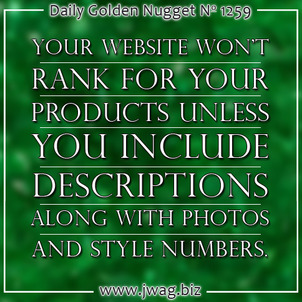 In this edition of #ThrowbackThursday, I'm jumping back, almost to the beginning. My 8th Nugget was a really good idea for
writing good online jewelry sales copy
that I want to revisit today.
I recently wrote
how to avoid the thin content trap in jewelry catalogs
, and in last week's
jewelry website review
I showed an example of a site needing better written content.
In fact, take a look at this screen grab from last week's review: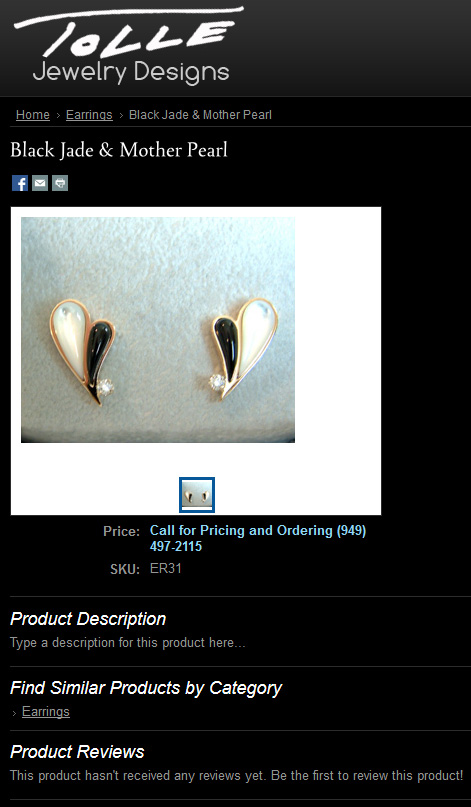 The product description shown above actually says "
Type a description for this product here...
"
In other words, they didn't even erase the default description that their CMS set up for them. Other than the "Black Jade & Mother Pearl" product title, this product has very little search engine ranking value. A simple description would go a long way towards boosting their website.
Writing product descriptions is a tedious job. One jewelry designer I helped recently was trying to write her own product descriptions for her retail jewelers. I gave her plenty of guidelines, but after a while she admitted that all her descriptions sounded the same.
Similar sounding product descriptions won't help your website, and they certainly won't help your sales. Descriptions need to be unique, except that you can easily burn out when you try to write many product descriptions.
Here's a simple solution: Don't do it alone.
Everyone who works for you probably has their favorite items, or sets of items that the really like. Some people are passionate about drop earrings and could talk about them all day, while others like the different types of bangles and know how to match them perfectly with different wardrobes. It's unlikely a group of individuals will use all the same words in the same order, so there will be added element of diversity.
Talk to your employees and ask them to help out with the product description writing process. You'll stress less over that tedious work and the product descriptions will sound much better coming from someone with a lot of passion about the products.