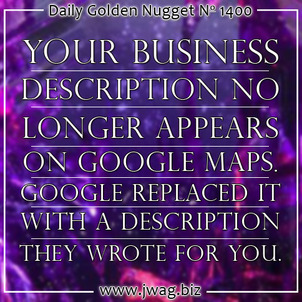 Welcome to the 1,400th Daily Golden Nugget. In honor of reaching another "00" status, I'm returning back to the root topic of where these Nuggets began, which is an update on what's happening with Google Maps. It's become our own personal drinking game, so let's explore it again with a beverage of your choice.
During the last 5 months, Google has changed a tremendous amount with regard to how Search, Maps, and Google+ work together. It started with a large change in directions of how Google+ worked. The original goal of Google+ was to unify all Google services under one platform, but it turned out that many users didn't like being forced to join a new social network just to manage their information.
Since Google controls most of how we search on the website today, it's important for a business to have an easy way to manage their information and how it appears in the different results. When I started this journey of Daily Nuggets, we had to log into different Google properties to manage our information. Maps, Places, Photos, and AdWords were all different websites with different and unrelated user interfaces. Sometimes you even had to enter your information a second time because the background databases were not shared.
By my count since August 2010, Google has attempted 4 different ways to provide better management of your business information. Google+ was their 3rd, apparently failed, attempt. Their 4th attempt is still in beta as I write this, which limits my ability to show you concrete updates to how Google Maps works, however, there is one recent development within the new user interface of some importance that I can show you.
Your Google Business Description
For several years, Google has allowed you to provide your own description for your business which would appear in search results, on Google Maps, and then Google+. Here's a screen shot of what this description looked like on Google+: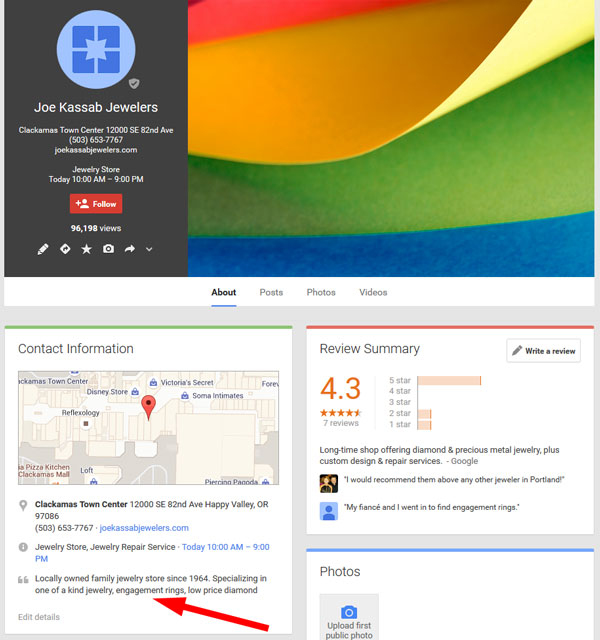 Sometime over the summer of 2015, Google launched a new version of Maps and removed these long descriptions from search results. In most cases, Google has removed all descriptions, but in a few cases there are simplified descriptions that are being added by Google employees. You can see a prime example of this in the
website review I wrote earlier this week
. Take a look at this screen shot: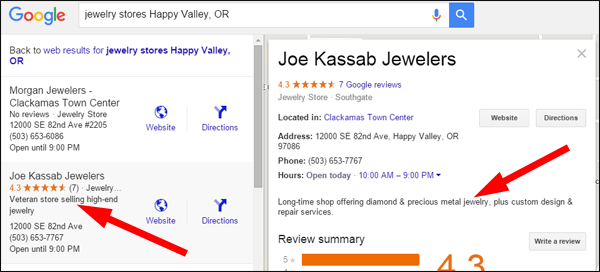 In the left column of the above screen shot it says "Veteran store selling high-end jewelry" and on the right it says "Long-time shop offering diamond & precious metal jewelry, plus custom design & repair services."
Neither of these short descriptions match the longer one that Joe Kassab Jewelers entered into their own Google My Business account. Specifically, I'm referring to the description "Locally owned family jewelry store since 1964. Specializing in one of a kind jewelry, engagement rings, low price diamond" you see above in the old Google+ format.
Speaking of Google+ formats, on November 17, 2015 Google launched a new Google+ interface that's supposed to be simpler. That's still in beta as I still write this, and all the features of the "Classic G+" format aren't available yet. Some features were removed from the new desktop and iOS version of Google+ and are only available on Android phones.
This is what the new Joe Kassab Jewelers Google+ page looks like: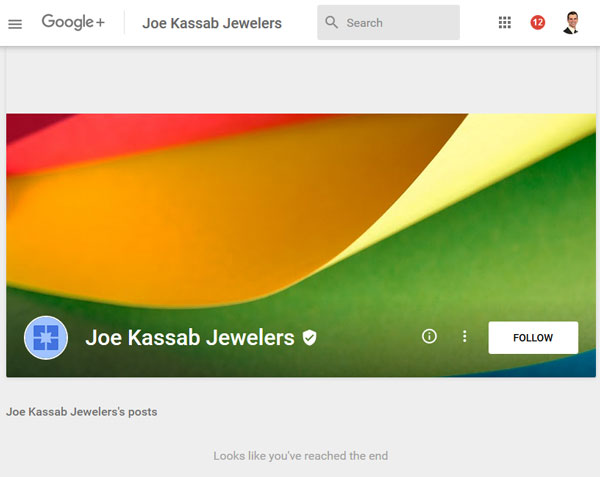 This current beta format of the new Google+ is grossly understated from the classic version. Even clicking the more info button only reveals the basic information shown here: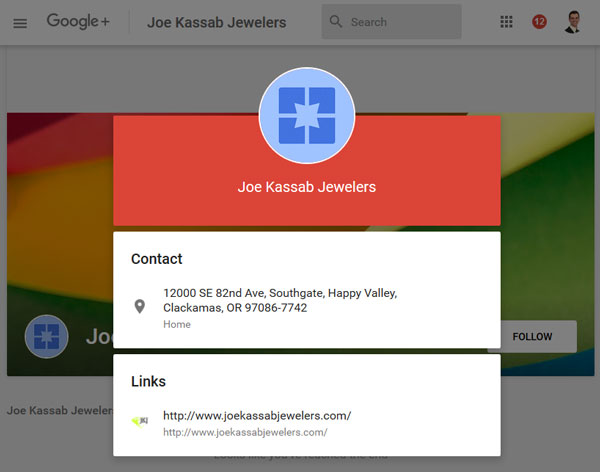 Going Forward...
My initial testing with these descriptions isn't very promising right now. The search results and maps screen shots I've shown above have been in place for about 5 months. The descriptions for the accounts I manage are not appearing in search or maps, and now they are not appearing in the new Google+.
Even though Google still provides a way to edit your own description, it seems to be a lame duck feature.
As Google continually quests to provide users with the best experience, they also do their best to fight spam. Once upon a time, your business description was an important factor in how your website would appear in search results, but not anymore. It seems like Google's solution to fight business description spam was to hire a team of copy writers who are reading your web pages and your customer reviews in order to write a simple, non-spammy description of your store.
I'll be sure to write a follow up to this in the future if and when more information is available. For now, just know that your local SEO company might tell you that these descriptions are important, but really, they're not any more. As least not today.
Cheers!