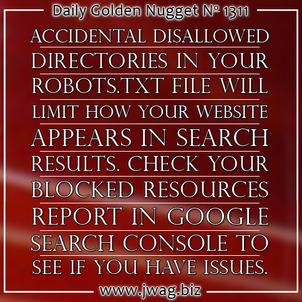 In today's Practical SEO Guide, I will tell you about website "Blocked Resources," how to view this report in Google Search Console, and how Google alerts you when they find a blocked resource.
First, let me explain that a Blocked Resource is a page, script, or some file that Google cannot read because you are telling them not to read it; yet, that same page, script, or file is used on the public site.
There's a difference between your public site and your backend area that you use to manage your sit...
VIEW FULL GOLD NUGGET