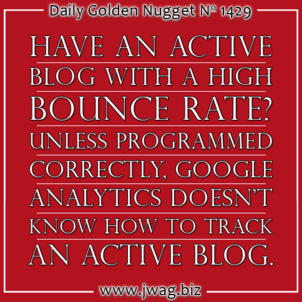 For today's #ThrowbackThursday Nugget, I'm jumping back to
my explanation of bounce rate from January 2011
.
Not much has changed since I wrote that previous Nugget, but I should recap the basics.
What is a Bounce Rate?
I should explain what a bounce rate is for those of you not quite up to speed. This is the percentage of people who visit your website, look at one page, click nothing else, then either close their web browser or c...
VIEW FULL GOLD NUGGET