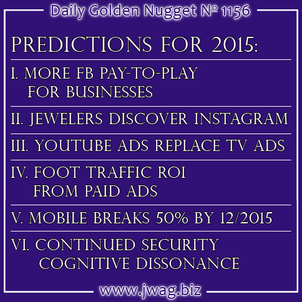 As the final hours of 2014 tick on by, I would like to share some of my predictions for 2015.
1. Content Marketing Will Become More Important for Jewelers
In order to understand why this will be important, you first need to understand what Content Marketing is. "Content" is anything that you publish online with the intention of influencing a customer's buying decisions. Written content is usually absorbed into Google and Bing and returned in search results, while all other content (photos, graphics, videos) are shared socially.
Instead of focusing on a s...
VIEW FULL GOLD NUGGET