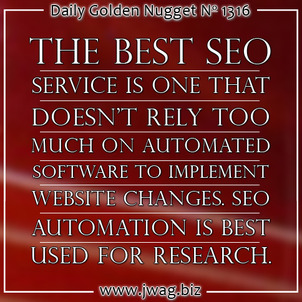 I was recently asked if I could help evaluate an SEO agency based on their email solicitation. SEO, or search engine optimization, changes so quickly it's difficult to know if an agency will be providing the most up to date services.
Here's the email I was asked to evaluate:
Reminder-SEO starts from just @99 USD per month
Hi,
First of all thank you for taking the time out of your busy day to read and consider this, We are of...
VIEW FULL GOLD NUGGET
AT: 08/08/2015 08:35:35 AM
0 COMMENTS
Monday, February 16, 2015
by

Matthew Perosi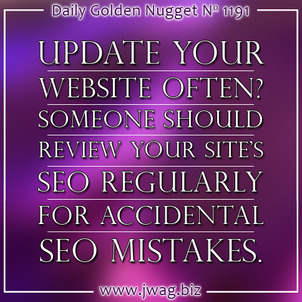 With all my writing
about
content
recently, it's easy to forget that the reason for all of that is to improve your search engine optimization (SEO) and thereby increase the number of people visiting your website.
SEO isn't a short term ...
VIEW FULL GOLD NUGGET
AT: 02/16/2015 12:38:18 PM
0 COMMENTS
Wednesday, December 10, 2014
by

Matthew Perosi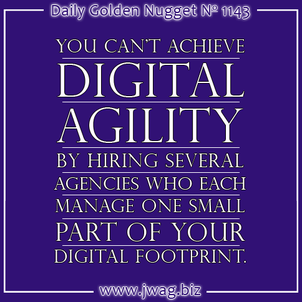 The internet has seen many changes over the last 4 years since I started writing these Daily Golden Nuggets. Undoubtedly, a lot of that change was informed by Google, but really there are a lot of other factors involved.
Through the Great Recession, a lot of easier and less expensive technology emerged that now allows us to access information from anywhere at any time. You could argue that the technology companies forced fancy new mobile devices on us; or you could say that the technology devel...
VIEW FULL GOLD NUGGET
AT: 12/10/2014 08:20:17 AM
0 COMMENTS
Thursday, September 09, 2010
by Matthew Perosi
"Lord" Google provides a tremendous amount of educational material through their Webmaster Tools series. But the problem for us "mere mortals" is simply that we don't have enough time to sift through to find the relevant minutia for ourselves. Even though the Jeweler Website Advisory Group is striving to provide such relevant jewelry website related minutia, we can't cover it all fast enough (yet). We love it when another source has helped with the process.
The SEO Workers organization provides a big help with regard to Google video library series. Navigate over to
http://www.seoworkers.com/tools/analyzer.html
and enter your website address into the "Page URL" field. Make sure to answer their question-based CAPTCHA before clicking the Submit button.
The repor...
VIEW FULL GOLD NUGGET
AT: 09/09/2010 02:26:37 PM
0 COMMENTS