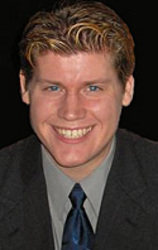 George Blair IV,
VP of JewelerWebsites.com

Learning about your store goes beyond the items in your showcase. You surely know that without divine customer service, the items won't sell. This is true online; the personality behind the showroom counter must carry over on your site.
A "Meet Our Staff" page (and it can be "Our Experts," "Our Service Representatives," whatever you feel comfortable calling yourself) is essential.
If you are concerned for high turnover rates in your staff than post simply the senior-most employees, or the just head of each special department: who's at the bend? Who's the primary greeter? Do you have an in-store dog? Your customer should know all of these things before they come in.
But why—why why why—must I take a picture of myself?
Because the Internet is a void. You need to present yourself as someone in this void that will help them, guide them, and get them what they are seeking. The storefront will only provide so much comfort. If your smiling face (yes! Smiling!) isn't somehow connected to all the technical aspect of your business, your customers will not seem invited. The GIA certificate is wonderful—but your customers do not want to feel intimidated by extensive credentials and a glass door that leads them to some of the biggest decisions of their lives.
Make no mistake: the credentials are important, too. With your smiling face (yes! Smiling!), your name and title should be clearly marked. Who you are is important, so keep it a mixture of what you can provide in terms of customer service as well as what they may be able to connect with on a personal level. Do you go SCUBA diving? Maybe they do too; little pre-small talk nuggets will create instant relationships for when they enter your store.
Some suggestions:
• Take photos of your staff doing what they do! "Yearbook" style photos do not show your employees in action. Save your portraits for the About Us page, or the even on the Welcome/Home page. To present friendly and knowledgeable at the same time, your staff should be shown in their respective jobs. That way it's all familiar for your guests.
• An alternative to photos of your staff at their posts is to show them doing something else that reflects their bio. They should be clear, but professional-looking shots are essential for your jewelry, not you.
• Take photos of your staff. It will help identify the employee more easily.
• Caption every photo with a name and title.
• Smile.