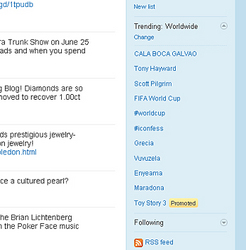 Twitter.com, developed in 2006 and currently experiencing member rates of more than 100 million, began their day on June 17, 2010 with an eleventh trending topic.
Trending Topics are defined as the most common phrases currently appearing in messages (called "tweets") posted by users of the site. They are immediately indexed as a Trending Topic on the sidebar of the site. They include everyday words ("watches," "Sunday") or a phrase that symbolizes the items associated with the topic. For example, "#fathersday" may be used to indicate that all items within be indexed as a Trending Topic whether they include "We're going to Six Flags for Father's Day" or "I bought my father a really cool diver's watch for Sunday #fathersday".
If "Obama" is trending, and users start using deviations such as "President Obama" or "Barack Obama," Twitter will group them together. If the Topic is trending for a specific reason, such as the State of the Union, that phrase may be sorted under the same conditions as "Obama" or "White House." It's not a perfect system, however, so if someone is commenting about Michelle Obama's ad campaign on childhood obesity, the name "Obama" will still be grouped with the others.
Usually the users of the site are responsible for the Trending Topics, based on either retweeting (reposting/rewriting) the message of someone influential, copying the same central phrase of someone in the media that is getting attention (this happens a lot with headlines) or a viral marketing tactic spread by fan clubs or zealous aficionados in the entertainment or sports arenas.
Toy Story 3
, the latest Disney Pixar film to be released to theaters, is currently trending, however it holds place at #11 on the usual Top 10 list. Next to it, a yellow button marked "Promoted" indicates that this is not due to users posting about the film.
Twitter clearly states, "You will start to see Tweets promoted by our partner advertisers called out at the top of some Twitter.com search results pages. We strongly believe that Promoted Tweets should be useful to you." For now, Twitter has listed Sony, Starbucks, Virgin America, Bravo, Red Bull, and Best Buy as their partners, but as "Toy Story 3" as a paid-for topic indicates, that is evolving. None of those businesses are owned by Disney or Pixar, so there's another company already that they've added.


Twitter Results Page Screenshot
An interesting point is that Disney Pixar is paying for Toy Story 3 to appear on the Trending Topics list, but since that is paid, all organic (naturally occurring) tweets are not counting towards the phrase, and ranking it higher. An international release from a major movie studio would naturally get much attention and probably become #1 on the Trending Topics list
This was seen when
Shrek 4
, a DreamWorks release, was released. Phrases such as "Shrek," "Puss in the Boots," "Donkey," and "Mike Myers" flooded Twitter because people were commenting on the film coming out, multiple articles on the film, and even disinterest in seeing the film. Even someone saying "I hate x" will get "x" to trend. Many messages in the Trending Topics' results page even say "Why is x trending?" One of the answers is because people are using the word to ask why.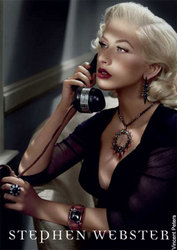 Twitter says they are checking if Twitter users end up caring about what the partners present. I am somewhat skeptical as to what that follow-up means; it probably doesn't mean they'll scrap them entirely even though Twitter's FAQ states "We'll... stop showing Promoted Tweets that don't resonate." If no one is buying the new Christina Aguilera album (and they aren't), that would imply that she's not resonating with the Twitterworld but I expect that Twitter will still take Sony's money and keep her as a Promoted Tweet. That's all hypothetical and may seem somewhat irrelevant to your needs as a jeweler--but it shouldn't. Aguilera is currently a face of Stephen Webster jewelry and her recognizability has an impact on your product. Plus, you can use it as an advantage.
If Christina Aguilera is a premium Topic, you can say "Feel like Christina Aguilera with our new line of Stephen Webster pendants and earrings." You'll get indexed like everyone else, but you'll be sorted for a phrase that someone else is paying to use!
Does that mean you should be having a "Toy Story 3 Ladies Night" event? Well, maybe not, but if you're carrying Chamilia, the phrase "Come in to X Jewelers and get your free tickets to Toy Story 3 with the purchase of a Mickey Mouse charm" should be already be typed in your messagebox.
Sources:
Economic Times
Twitter FAQ