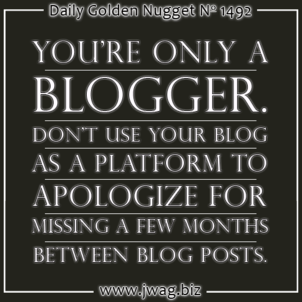 Stop apologizing for not updating your blog! That's it! Just stop it!
Throughout my entire career writing these Golden Nuggets, I have explained over and over again how important it is to have an active blog on your website. The basic goal of your blog is to provide good information to customers who want to know more about a topic.
The blog on your website is a good place to publish information that doesn't quite fit in with the rest of the pages on your site. Most webmasters spend a lot of time tw...
VIEW FULL GOLD NUGGET